A new report from the Congressional Budget Office (CBO) was released on Friday in response to a request from Senator Lindsey Graham (R-SC) and Representative Jason Smith (R-MO). This report analyzed the cost of Democrats' Build Back Better (BBB) tax-and-spend plan if the provisions included were made permanent. While Democrats have claimed BBB is "paid for," it relies heavily on temporary provisions and gimmicks. This new CBO report found that the total impact of a permanent version of BBB would be nearly $5 trillion and would increase the deficit by $3 trillion over the 2022-2031 period.
This is not the only unsettling news for Democrats that was released on Friday. A report from the Bureau of Labor and Statistics also showed that inflation accelerated at its fastest pace since 1982. Considering BBB front-loads the spending and backloads the pay-fors, even if the costs of the bill were fully offset (which they clearly aren't), there is a reasonable risk that it would worsen the current inflationary situation. These dual reports today certainly support Senator Joe Manchin's (D-WV) concerns about BBB, as well as NTU's.
Some might claim that CBO's analysis of a permanent version of BBB can be ignored because that's not how the bill is written. And it is true that the current version of Democrats' social spending bill is filled with temporary measures designed to make the programs appear less expensive on paper. However, Democrats clearly anticipate these provisions would be made permanent, or at the very least, continually extended on a temporary basis.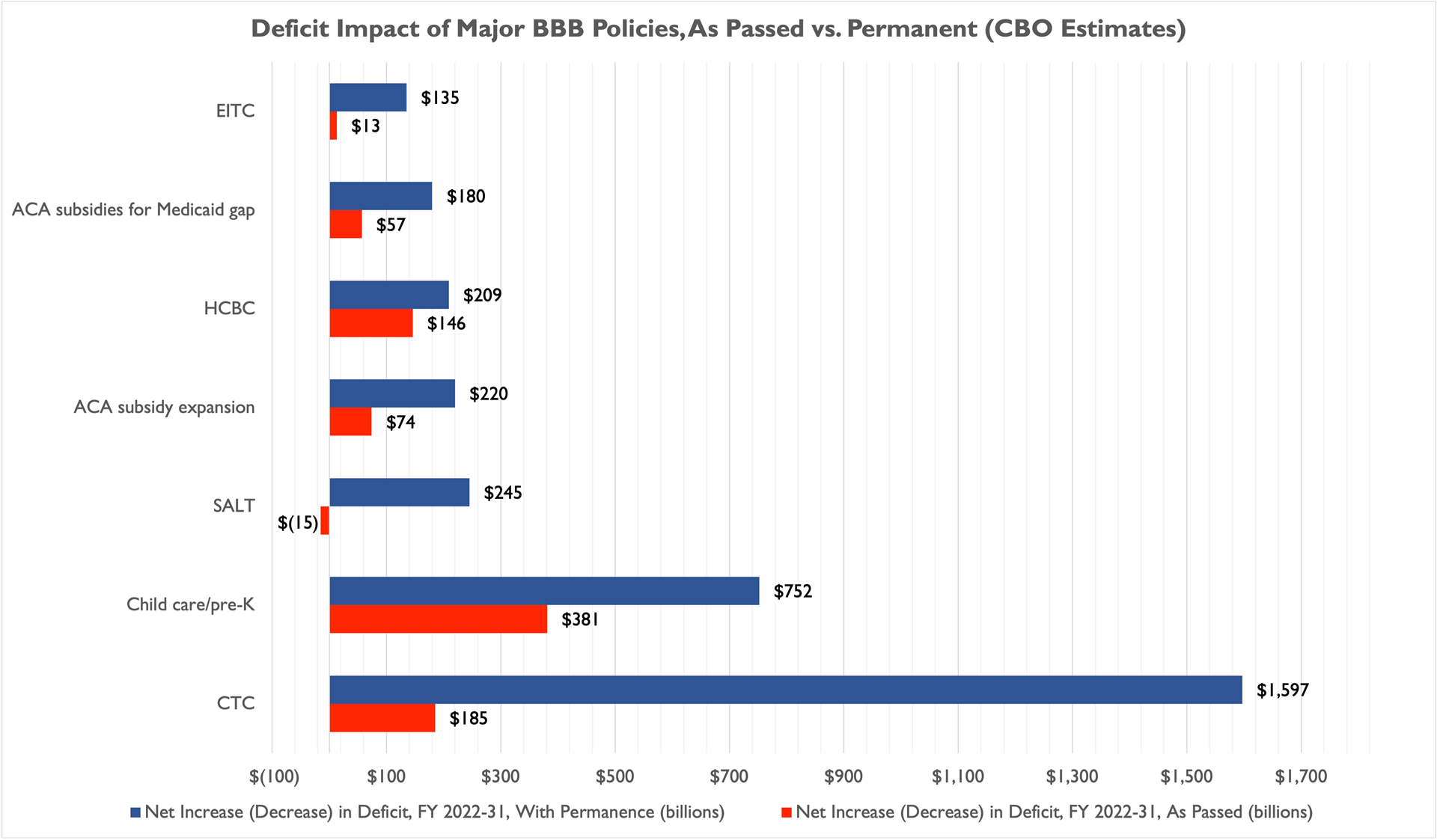 As just one example, the expanded child tax credit is set to expire at the end of the year, and Democrats included a one-year extension of the credit in BBB. Representative Hakeem Jeffries (D-NY) stated, "House Democrats will not allow this credit to expire, and I don't believe that the Senate will either." While House supporters are attempting to sell the expiration date of the expanded credit as an enticement for their Senate colleagues to pass BBB, they are at the same time clearly signaling Congress has every intention of keeping these provisions. After all, Democrats aren't promising Americans a "one-year reduction in child poverty," or just six years of a child care entitlement. They are making promises of permanence to taxpayers, and it is fair that their bill should be evaluated in that context.
For their part, Senate Majority Leader Chuck Schumer (D-NY) and Speaker of the House Nancy Pelosi (D-CA) have already come out claiming this "fake" report doesn't account for any extensions of these programs that would supposedly be fully offset. That is certainly hard to believe considering the hoops Democrats have had to jump through to compile the current list of gimmicky pay-fors. Similarly, a $5 trillion bill cannot be "paid for" by taxing only super-wealthy individuals. In fact, Democrats have already included provisions harmful to middle class families like the regressive state and local tax (SALT) deduction cap change, a methane fee that will be passed along in energy bills, and funding for the Internal Revenue Service (IRS), which could easily aim more more heavy-handed enforcement at everyday Americans. While Pelosi and Schumer's assurances seem tenuous, they would seem to signal that middle class taxpayers are going to be picking up the tab even if they were on more solid ground.
At a point where Congress has spent trillions of dollars in a short period of time to address the COVID-19 pandemic, there is simply no excuse for more reckless spending. Rather than narrow the focus of their bill, Democrats attempted to utilize arbitrary sunsets as a way to hoodwink taxpayers. As the U.S. debt rapidly approaches $30 trillion, this CBO report is yet another clear sign that BBB is fiscally irresponsible and would put the U.S. in a worse economic position. If lawmakers are serious about addressing the issues for which BBB was supposedly crafted, they should do so in a transparent and deficit-neutral manner.