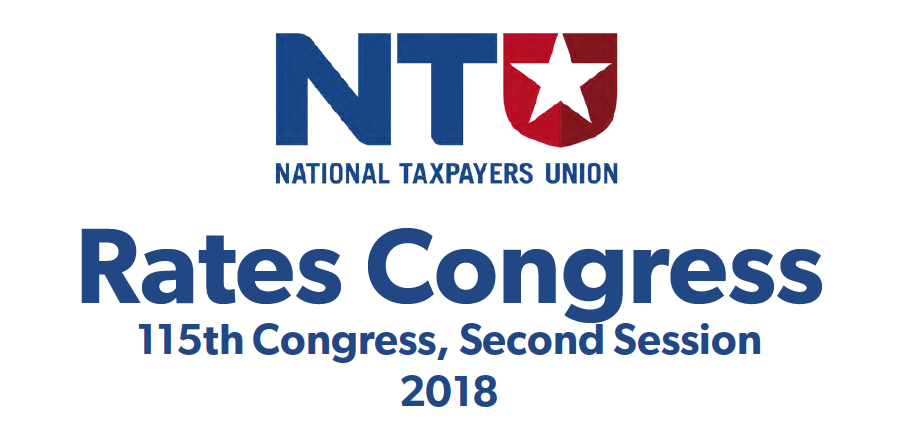 The National Taxpayers Union has released the congressional ratings scorecard for the second session of the 115th Congress. The NTU ratings are the most comprehensive analysis of the way that members of Congress vote for taxpayers. For our 2018 congressional ratings, NTU scored a total of more than 200 roll call votes in Congress, which includes 39 votes in the Senate and 168 votes in the House of Representatives.
Every vote with a fiscal impact received a score and a weight from NTU. This year, 17 Representatives and 8 Senators had a voting record worthy of a "Taxpayers Friend" award, which go to the members of Congress who set a high standard for protecting taxpayers' interests.
The Taxpayer Score measures the strength of support for reducing spending and opposing higher taxes. In general, a higher score is better because it means a member of Congress voted to spend less money.
The Taxpayer Score can range between zero and 100. We do not expect anyone to score a 100, nor has any legislator ever scored a perfect 100 in the multi-year history of the comprehensive NTU scoring system. A high score does not mean that the member of Congress was opposed to all spending or all programs. High-scoring members have indicated that they would vote for many programs if the amount of spending were lower or if the budget were balanced. A member who wants to increase spending on some programs can achieve a high score if he or she votes for offsetting cuts in other programs. A zero score would indicate that the member of Congress approved every spending proposal and opposed every pro-taxpayer reform.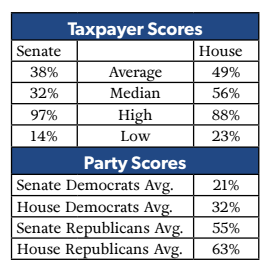 NTU believes a score qualifying for a grade of "A" indicates the member is one of the strongest supporters of responsible tax and spending policies. We are pleased to give these members of Congress our "Taxpayers' Friend Award." For the second session of the 115th Congress, NTU is awarding 17 Representatives and 8 Senators with our "Taxpayers' Friend" award.
Senate
Alabama

Kentucky

Ohio

Jones

23%

F

McConnell

N/A

N/A

Brown

19%

F

Shelby

35%

D

Paul

97%

A

Portman

40%

C-

State Average

29%

State Average

97%

State Average

29%

Alaska

Louisiana

Oklahoma

Murkowski

34%

D

Cassidy

63%

B

Inhofe

51%

C

Sullivan

53%

C+

Kennedy

69%

B+

Lankford

75%

A

State Average

43%

State Average

66%

State Average

63%

Arizona

Maine

Oregon

Flake

89%

A

Collins

15%

F

Merkley

29%

D

Kyl

N/A

N/A

King

20%

F

Wyden

25%

F

State Average

89%

State Average

18%

State Average

27%

Arkansas

Maryland

Pennsylvania

Cardin

20%

F

Casey

15%

F

Boozman

40%

C-

Van Hollen

20%

F

Toomey

87%

A

Cotton

63%

B

State Average

20%

State Average

51%

State Average

51%

Massachusetts

Rhode Island

California

Markey

31%

D

Reed

18%

F

Feinstein

26%

D

Warren

31%

D

Whitehouse

18%

F

Harris

31%

D

State Average

31%

State Average

18%

State Average

29%

Michigan

South Carolina

Colorado

Peters

20%

F

Graham

33%

D

Bennet

30%

D

Stabenow

20%

F

Scott

52%

C

Gardner

51%

C

State Average

20%

State Average

42%

State Average

41%

Minnesota

South Dakota

Connecticut

Klobuchar

16%

F

Rounds

39%

D

Blumenthal

19%

F

Smith

16%

F

Thune

49%

C-

Murphy

19%

F

State Average

16%

State Average

44%

State Average

19%

Mississippi

Tennessee

Delaware

Hyde-Smith

46%

C-

Alexander

44%

C-

Carper

20%

F

Wicker

47%

C-

Corker

63%

B

Coons

20%

F

State Average

47%

State Average

54%

State Average

20%

Missouri

Texas

Florida

Blunt

45%

C-

Cornyn

50%

C

Nelson

15%

F

McCaskill

25%

F

Cruz

69%

B+

Rubio

58%

B-

State Average

35%

State Average

59%

State Average

36%

Montana

Utah

Georgia

Daines

63%

B

Hatch

40%

C-

Isakson

46%

C-

Tester

23%

F

Lee

91%

A

Perdue

50%

C

State Average

43%

State Average

66%

State Average

48%

Nebraska

Vermont

Hawaii

Fischer

54%

C+

Leahy

16%

F

Hirono

25%

F

Sasse

71%

A

Sanders

31%

D

Schatz

18%

F

State Average

62%

State Average

24%

State Average

22%

Nevada

Virginia

Idaho

Cortez Masto

14%

F

Kaine

20%

F

Crapo

63%

B

Heller

48%

C-

Warner

20%

F

Risch

62%

B

State Average

31%

State Average

20%

State Average

62%

New Hampshire

Washington

Illinois

Hassan

25%

F

Cantwell

22%

F

Duckworth

16%

F

Shaheen

24%

F

Murray

16%

F

Durbin

19%

F

State Average

25%

State Average

19%

State Average

17%

New Jersey

West Virginia

Indiana

Booker

32%

D

Capito

45%

C-

Donnelly

18%

F

Menendez

20%

F

Manchin

18%

F

Young

49%

C-

State Average

26%

State Average

32%

State Average

33%

New Mexico

Wisconsin

Iowa

Heinrich

21%

F

Baldwin

16%

F

Ernst

60%

B

Udall

18%

F

Johnson

79%

A

Grassley

70%

A

State Average

20%

State Average

48%

State Average

65%

New York

Wyoming

Kansas

Gillibrand

32%

D

Barrasso

65%

B+

Moran

45%

C-

Schumer

20%

F

Enzi

68%

B+

Roberts

38%

D

State Average

26%

State Average

66%

State Average

42%

North Carolina

Burr

51%

C

Total Average

38%

Tillis

46%

C-

State Average

49%

North Dakota

Heitkamp

18%

F

Hoeven

38%

D

State Average

28%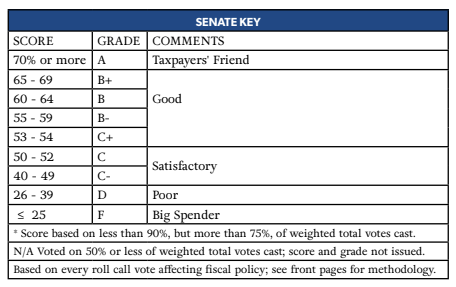 House
| | | | | | | | | |
| --- | --- | --- | --- | --- | --- | --- | --- | --- |
| Alabama | | | Indiana | | | North Carolina | | |
| Aderholt | 61% | B- | Banks | 67% | B | Adams | 28% | D |
| Brooks | 66% | B | Brooks | 60% | B- | Budd | 75% | A |
| Byrne | 61% | B- | Bucshon | 60% | B- | Butterfield | 29% | D |
| Palmer | 68% | B | Carson | 35% | D | Foxx | 73% | B+ |
| Roby | 58% | C+ | Hollingsworth | 68% | B | Holding | 70% | B+ |
| Rogers | 57% | C+ | Messer | 64% | B- | Hudson | 64% | B- |
| Sewell | 37% | D | Rokita | 68% | B | Jones | 64% | B- |
| State Average | 58% | | Visclosky | 28% | D | McHenry | 61% | B- |
| Alaska | | | Walorski | 59% | C+ | Meadows | 73% | B+ |
| Young | 56% | C+ | State Average | 57% | | Pittenger | 59% | C+ |
| State Average | 56% | | Iowa | | | Price | 28% | D |
| Arizona | | | Blum | 64% | B- | Rouzer | 65% | B |
| Biggs | 77% | A | King | 64% | B- | Walker | 70% | B+ |
| Gallego | 30% | D | Loebsack | 28% | D | State Average | 58% | |
| Gosar | 73% | B+ | Young | 58% | C+ | North Dakota | | |
| Grijalva | 31% | D | State Average | 53% | | Cramer | 57% | C+ |
| Lesko | 72% | B+ | Kansas | | | State Average | 57% | |
| McSally | 63% | B- | Estes | 62% | B- | Ohio | | |
| O'Halleran | 38% | D | Jenkins | 61% | B- | Balderson | N/A | |
| Schweikert | 75% | A | Marshall | 56% | C+ | Beatty | 29% | D |
| Sinema | 48% | C- | Yoder | 60% | B- | Chabot | 72% | B+ |
| State Average | 56% | | State Average | 60% | | Davidson | 78% | A |
| Arkansas | | | Kentucky | | | Fudge | 26% | F |
| Crawford | 60% | B- | Barr | 62% | B- | Gibbs | 59% | C+ |
| Hill | 59% | C+ | Comer | 67% | B | Johnson | 60% | B- |
| Westerman | 66% | B | Guthrie | 60% | B- | Jordan | 77% | A |
| Womack | 60% | B- | Massie | 83% | A | Joyce | 58% | C+ |
| State Average | 61% | | Rogers | 58% | C+ | Kaptur | 27% | D |
| California | | | Yarmuth | 25% | F | Latta | 66% | B |
| Aguilar | 39% | D | State Average | 59% | | Renacci | 66% | B |
| Barragan | 35% | D | Louisiana | | | Ryan | 27% | D |
| Bass | 33% | D | Abraham | 64% | B- | Stivers | 56% | C+ |
| Bera | 32% | D | Graves | 67% | B | Turner | 54% | C |
| Brownley | 31% | D | Higgins | 61% | B- | Wenstrup | 62% | B- |
| Calvert | 60% | B- | Johnson | 65% | B | State Average | 54% | |
| Carbajal | 29% | D | Richmond | 33% | D | Oklahoma | | |
| Cardenas | 38% | D | Scalise | 61% | B- | Cole | 57% | C+ |
| Chu | 30% | D | State Average | 59% | | Hern | N/A | |
| Cook | 61% | B- | Maine | | | Lucas | 57% | C+ |
| Correa | 48% | C- | Pingree | 31% | D | Mullin | 62% | B- |
| Costa | 40% | D | Poliquin | 56% | C+ | Russell | 66% | B |
| Davis | 32% | D | State Average | 44% | | State Average | 60% | |
| Denham | 60% | B- | Maryland | | | Oregon | | |
| DeSaulnier | 31% | D | Brown | 32% | D | Blumenauer | 33% | D |
| Eshoo | 32% | D | Cummings | 25% | F | Bonamici | 29% | D |
| Garamendi | 23% | F | Delaney | 40% | D | DeFazio | 34% | D |
| Gomez | 32% | D | Harris | 76% | A | Schrader | 41% | C- |
| Huffman | 29% | D | Hoyer | 32% | D | Walden | 57% | C+ |
| Hunter | 61% | B- | Raskin | 34% | D | State Average | 39% | |
| Issa | 68% | B | Ruppersberger | 34% | D | Pennsylvania | | |
| Khanna | 33% | D | Sarbanes | 30% | D | Barletta | 61% | B- |
| Knight | 60% | B- | State Average | 38% | | Boyle | 33% | D |
| LaMalfa | 59% | C+ | Massachusetts | | | Brady | 28% | D |
| Lee | 33% | D | Capuano | 27% | D | Cartwright | 29% | D |
| Lieu | 35% | D | Clark | 32% | D | Costello | 55% | C+ |
| Lofgren | 33% | D | Keating | 26% | F | Dent | N/A | |
| Lowenthal | 30% | D | Kennedy | 32% | D | Doyle | 31% | D |
| Matsui | 33% | D | Lynch | 29% | D | Evans | 26% | F |
| McCarthy | 60% | B- | McGovern | 30% | D | Fitzpatrick | 51% | C |
| McClintock | 88% | A | Moulton | 37% | D | Kelly | 58% | C+ |
| McNerney | 30% | D | Neal | 31% | D | Lamb | 41% | C- |
| Napolitano | 31% | D | Tsongas | 29% | D | Marino | 59% | C+ |
| Nunes | 58% | C+ | State Average | 30% | | Meehan | N/A | |
| Panetta | 37% | D | Michigan | | | Perry | 76% | A |
| Pelosi | 27% | D | Amash | 85% | A | Rothfus | 74% | B+ |
| Peters | 36% | D | Bergman | 59% | C+ | Scanlon | N/A | |
| Rohrabacher | 74% | B+ | Bishop | 61% | B- | Shuster | 54% | C |
| Roybal-Allard | 29% | D | Dingell | 32% | D | Smucker | 67% | B |
| Royce | 63% | B- | Huizenga | 62% | B- | Thompson | 58% | C+ |
| Ruiz | 26% | F | Jones | N/A | | Wild | N/A | |
| Sanchez | 30% | D | Kildee | 29% | D | State Average | 50% | |
| Schiff | 33% | D | Lawrence | 27% | D | Rhode Island | | |
| Sherman | 30% | D | Levin | 28% | D | Cicilline | 31% | D |
| Speier | 44% | C- | Mitchell | 57% | C+ | Langevin | 28% | D |
| Swalwell | 34% | D | Moolenaar | 58% | C+ | State Average | 30% | |
| Takano | 31% | D | Trott | 58% | C+ | South Carolina | | |
| Thompson | 30% | D | Upton | 62% | B- | Clyburn | 29% | D |
| Torres | 33% | D | Walberg | 63% | B- | Duncan | 76% | A |
| Valadao | 58% | C+ | State Average | 52% | | Gowdy | 63% | B- |
| Vargas | 34% | D | Minnesota | | | Norman | 74% | B+ |
| Walters | 61% | B- | Ellison | 33% | D | Rice | 66% | B |
| Waters | 31% | D | Emmer | 67% | B | Sanford | 81% | A |
| State Average | 41% | | Lewis | 69% | B | Wilson | 58% | C+ |
| Colorado | | | McCollum | 24% | F | State Average | 64% | |
| Buck | 76% | A | Nolan | 41% | C- | South Dakota | | |
| Coffman | 66% | B | Paulsen | 60% | B- | Noem | 66% | B |
| DeGette | 32% | D | Peterson | 50% | C | State Average | 66% | |
| Lamborn | 66% | B | Walz | N/A | | Tennessee | | |
| Perlmutter | 36% | D | State Average | 49% | | Black | 59% | C+ |
| Polis | 49% | C- | Mississippi | | | Blackburn | 63% | B- |
| Tipton | 59% | C+ | Harper | 55% | C+ | Cohen | 30% | D |
| State Average | 55% | | Kelly | 63% | B- | Cooper | 38% | D |
| Connecticut | | | Palazzo | 57% | C+ | DesJarlais | 67% | B |
| Courtney | 24% | F | Thompson | 25% | F | Duncan | 83% | A |
| DeLauro | 23% | F | State Average | 50% | | Fleischmann | 61% | B- |
| Esty | 27% | D | Missouri | | | Kustoff | 62% | B- |
| Himes | 36% | D | Clay | 29% | D | Roe | 63% | B- |
| Larson | 27% | D | Cleaver | 32% | D | State Average | 58% | |
| State Average | 27% | | Graves | 57% | C+ | Texas | | |
| Delaware | | | Hartzler | 60% | B- | Arrington | 62% | B- |
| Blunt Rochester | 28% | D | Long | 64% | B- | Babin | 63% | B- |
| State Average | 28% | | Luetkemeyer | 60% | B- | Barton | 66% | B |
| Florida | | | Smith | 65% | B | Brady | 58% | C+ |
| Bilirakis | 62% | B- | Wagner | 65% | B | Burgess | 60% | B- |
| Buchanan | 56% | C+ | State Average | 54% | | Carter | 58% | C+ |
| Castor | 24% | F | Montana | | | Castro | 32% | D |
| Crist | 28% | D | Gianforte | 64% | B- | Cloud | N/A | |
| Curbelo | 54% | C | State Average | 64% | | Conaway | 60% | B- |
| Demings | 31% | D | Nebraska | | | Cuellar | 52% | C |
| DeSantis | 68% | B | Bacon | 59% | C+ | Culberson | 61% | B- |
| Deutch | 24% | F | Fortenberry | 56% | C+ | Doggett | 36% | D |
| Diaz-Balart | 54% | C | Smith | 63% | B- | Flores | 62% | B- |
| Dunn | 60% | B- | State Average | 59% | | Gohmert | 73% | B+ |
| Frankel | 27% | D | Nevada | | | Gonzalez | 43% | C- |
| Gaetz | 73% | B+ | Amodei | 58% | C+ | Granger | 59% | C+ |
| Hastings | 24% | F | Kihuen | 32% | D | Green | 26% | F |
| Lawson | 31% | D | Rosen | 34% | D | Green | 31% | D |
| Mast | 59% | C+ | Titus | 31% | D | Hensarling | 73% | B+ |
| Murphy | 39% | D | State Average | 39% | | Hurd | 57% | C+ |
| Posey | 70% | B+ | New Hampshire | | | Jackson Lee | 29% | D |
| Rooney | 69% | B | Kuster | 37% | D | Johnson | 25% | F |
| Rooney | 52% | C | Shea-Porter | 26% | F | Johnson | 70% | B+ |
| Ros-Lehtinen | 61% | B- | State Average | 32% | | Marchant | 59% | C+ |
| Ross | 58% | C+ | New Jersey | | | McCaul | 59% | C+ |
| Rutherford | 57% | C+ | Frelinghuysen | 63% | B- | Olson | 61% | B- |
| Soto | 26% | F | Gottheimer | 42% | C- | O'Rourke | 28% | D |
| Wasserman Schultz | 27% | D | Lance | 58% | C+ | Poe | 65% | B |
| Webster | 68% | B | LoBiondo | 55% | C+ | Ratcliffe | 73% | B+ |
| Wilson | 29% | D | MacArthur | 53% | C | Sessions | 62% | B- |
| Yoho | 68% | B | Norcross | 32% | D | Smith | 60% | B- |
| State Average | 48% | | Pallone | 33% | D | Thornberry | 58% | C+ |
| Georgia | | | Pascrell | 28% | D | Veasey | 39% | D |
| Allen | 64% | B- | Payne | 29% | D | Vela | 35% | D |
| Bishop | 38% | D | Sires | 33% | D | Weber | 64% | B- |
| Carter | 64% | B- | Smith | 52% | C | Williams | 66% | B |
| Collins | 61% | B- | Watson Coleman | 31% | D | State Average | 54% | |
| Ferguson | 61% | B- | State Average | 42% | | Utah | | |
| Graves | 65% | B | New Mexico | | | Bishop | 61% | B- |
| Handel | 63% | B- | Lujan | 32% | D | Curtis | 68% | B |
| Hice | 72% | B+ | Lujan Grisham | 36% | D | Love | 60% | B- |
| Johnson | 32% | D | Pearce | 62% | B- | Stewart | 65% | B |
| Lewis | 30% | D | State Average | 43% | | State Average | 64% | |
| Loudermilk | 71% | B+ | New York | | | Vermont | | |
| Scott | 59% | C+ | Clarke | 31% | D | Welch | 29% | D |
| Scott | 36% | D | Collins | 59% | C+ | State Average | 29% | |
| Woodall | 63% | B- | Crowley | 26% | F | Virginia | | |
| State Average | 56% | | Donovan | 53% | C | Beyer | 31% | D |
| Hawaii | | | Engel | 31% | D | Brat | 73% | B+ |
| Gabbard | 30% | D | Espaillat | 30% | D | Comstock | 59% | C+ |
| Hanabusa | 32% | D | Faso | 49% | C- | Connolly | 28% | D |
| State Average | 31% | | Higgins | 25% | F | Garrett | 80% | A |
| Idaho | | | Jeffries | 26% | F | Goodlatte | 61% | B- |
| Labrador | 79% | A | Katko | 53% | C | Griffith | 68% | B |
| Simpson | 53% | C | King | 58% | C+ | McEachin | 32% | D |
| State Average | 66% | | Lowey | 28% | D | Scott | 26% | F |
| Illinois | | | Maloney | 30% | D | Taylor | 59% | C+ |
| Bost | 57% | C+ | Maloney | 40% | D | Wittman | 64% | B- |
| Bustos | 30% | D | Meeks | 35% | D | State Average | 53% | |
| Davis | 30% | D | Meng | 29% | D | Washington | | |
| Davis | 58% | C+ | Morelle | N/A | | DelBene | 30% | D |
| Foster | 36% | D | Nadler | 28% | D | Heck | 33% | D |
| Gutierrez | 30% | D | Reed | 59% | C+ | Herrera Beutler | 63% | B- |
| Hultgren | 59% | C+ | Rice | 36% | D | Jayapal | 30% | D |
| Kelly | 28% | D | Serrano | 30% | D | Kilmer | 32% | D |
| Kinzinger | 56% | C+ | Stefanik | 46% | C- | Larsen | 30% | D |
| Krishnamoorthi | 31% | D | Suozzi | 44% | C- | McMorris Rodgers | 59% | C+ |
| LaHood | 63% | B- | Tenney | 57% | C+ | Newhouse | 60% | B- |
| Lipinski | 40% | D | Tonko | 29% | D | Reichert | 58% | C+ |
| Quigley | 31% | D | Velazquez | 30% | D | Smith | 32% | D |
| Roskam | 56% | C+ | Zeldin | 63% | B- | State Average | 43% | |
| Rush | 32% | D | State Average | 39% | | West Virginia | | |
| Schakowsky | 30% | D | | | | Jenkins | 59% | C+ |
| Schneider | 36% | D | | | | McKinley | 53% | C |
| Shimkus | 58% | C+ | | | | Mooney | 73% | B+ |
| State Average | 42% | | | | | State Average | 62% | |
| | | | | | | Wisconsin | | |
| | | | | | | Duffy | 59% | C+ |
| | | | | | | Gallagher | 66% | B |
| | | | | | | Grothman | 66% | B |
| | | | | | | Kind | 46% | C- |
| | | | | | | Moore | 38% | D |
| | | | | | | Pocan | 30% | D |
| | | | | | | Ryan | N/A | |
| | | | | | | Sensenbrenner | 76% | A |
| | | | | | | State Average | 55% | |
| | | | | | | Wyoming | | |
| | | | | | | Cheney | 59% | C+ |
| | | | | | | State Average | 59% | |