In late March, the Department of Defense (DoD) released its fiscal year (FY) 2023 budget request, asking Congress for $773 billion to fund the nation's military in the fiscal year that starts October 1. Fortunately for DoD – and unfortunately for the nation's taxpayers – if history is any indicator, the Washington mindset is to give the military every one of those requested dollars and more as lawmakers start their work on the new budget. In fact, because of requirements Congress has added to the budget process, the military's service branches and combatant commands have already provided lawmakers with a nearly $21.5 billion roadmap to increasing the defense budget.
Those who follow NTU's defense budget work will understand that we are referring to unfunded priorities lists – UPLs for short, and more commonly referred to as "wish lists." UPLs have been around for decades, but Congress has recently mandated that certain components of the nation's military provide lawmakers with UPLs every year. In essence, Congress asks the leaders of the Army, Navy, Air Force, Marines, Space Force, Missile Defense Agency, and combatant commands to circumvent the budget planning of the Department, and provide lawmakers with a list of programs and activities they would fund if only they had additional resources. (Spoiler alert: Congress routinely provides the military with additional resources, even as this drives up our annual deficits and national debt.)
This year's UPLs have begun trickling out, available only based on the dogged efforts of civil society organizations and reporters because Congress does not have any consistent requirement for the military to post UPLs in one, public location. The non-partisan Taxpayers for Common Sense (TCS) has obtained several UPLs, which we link to throughout the piece. Bloomberg Government has also obtained information about UPLs.[1]
Though NTU has not gained access to the UPLs for several important components of the U.S. military – including the Missile Defense Agency – the UPLs of the other four service branches and several combatant commands add up to $21.5 billion in requests so far.
The Army has the most expensive UPL so far, coming in at more than $6.5 billion. The Air Force ($4.6 billion), Navy ($4.0 billion), and Marines ($3.5 billion) also have multi-billion dollar wish lists.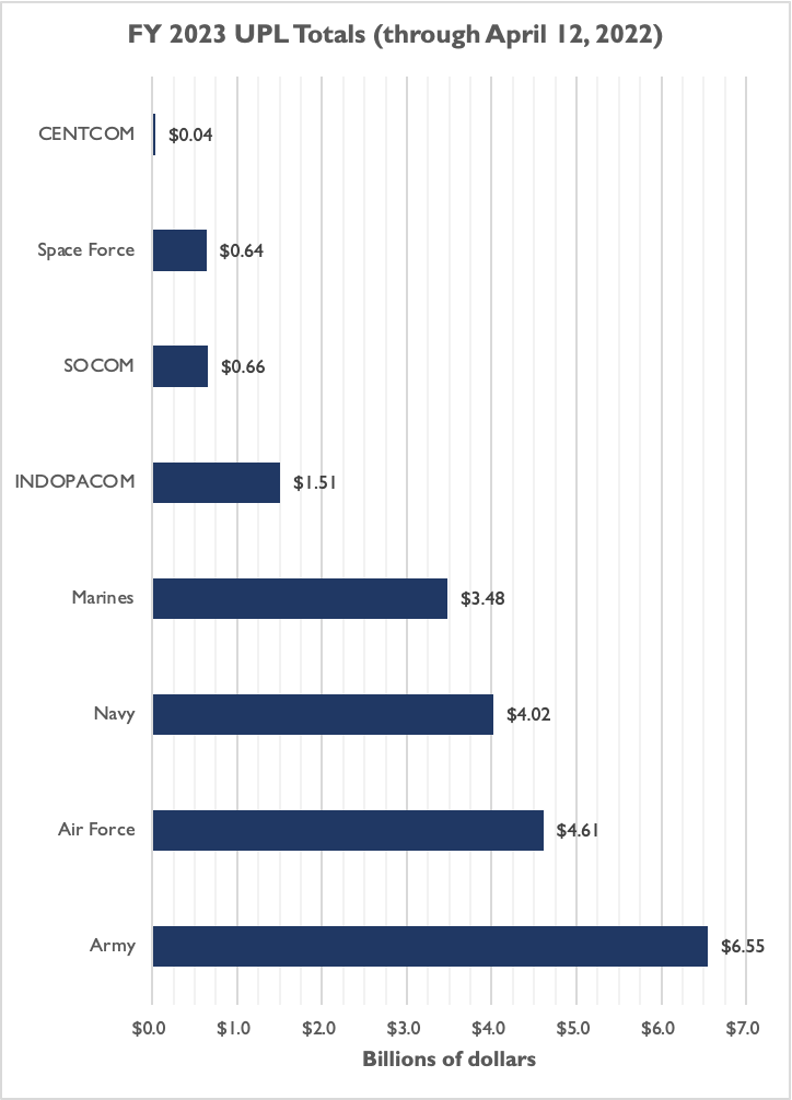 If Congress were to grant all the wish list requests we have currently tallied the DoD budget would increase from $773 billion to nearly $795 billion: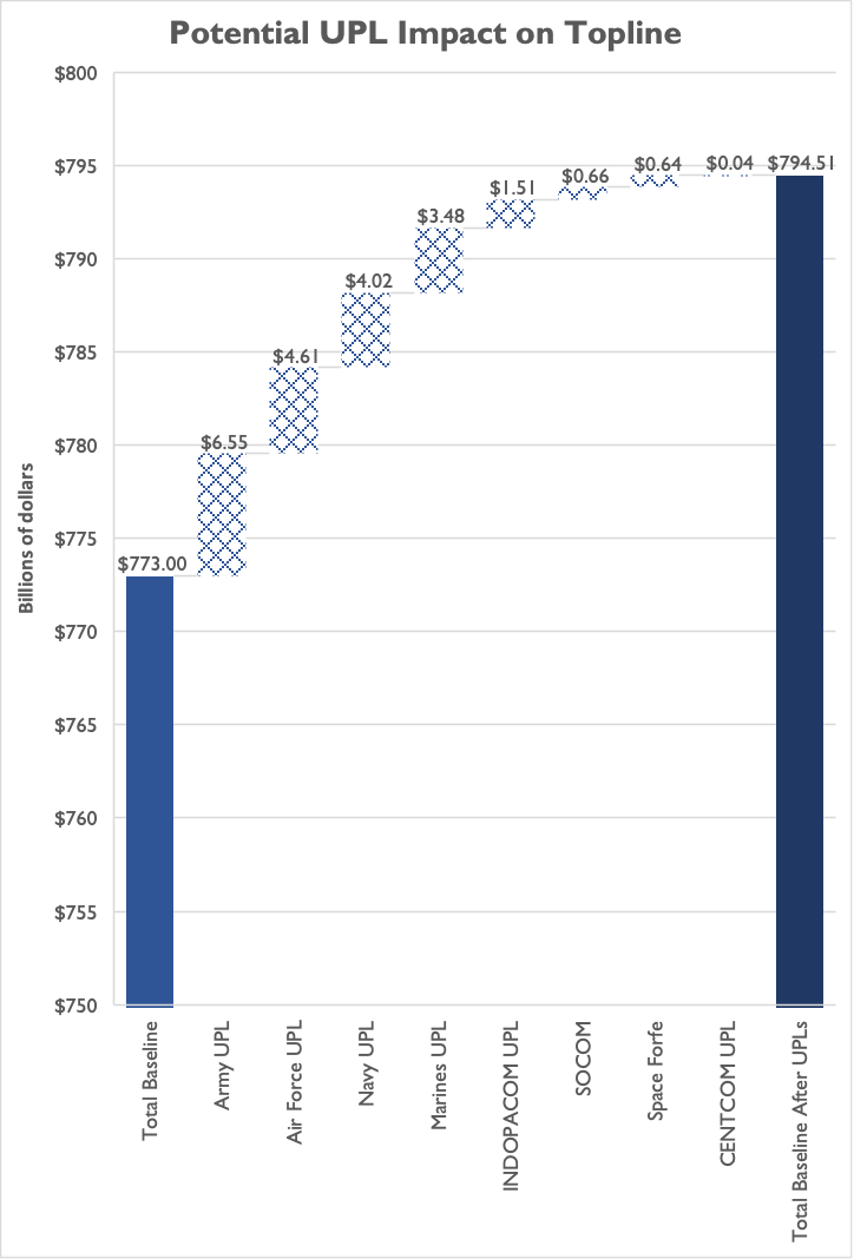 And just what is in these UPLs?
For starters, lots and lots of F-35 aircraft. Media paid attention when the DoD budget request for FY 2023 called for procuring 'only' 65 F-35 aircraft, down from 96 in 2021 and 85 (estimated) in FY 2022. For advocates of a more responsible defense budget, the move was perhaps a baby step towards acknowledging that the F-35 is a boondoggle of a project – a $1.7 trillion plane that can't reliably fly – and that Congress and the military should scale back its purchases of the fighter jet until the military fixes numerous major flaws with the aircraft.
Enter the UPLs.
The Air Force has asked for seven additional F-35A aircraft in its UPL, at a total cost of $921 million. The Marine Corps has asked for six additional F-35B and F-35C aircraft – and F-35B spare parts – at a total cost of $788 million. And the Navy has asked for six F-35C aircraft at a total cost of $708 million. That's more than $2.4 billion in UPLs just for the F-35 program.
If Congress fulfills the service branches' wishes, F-35 procurement will rise from 65 under the Biden FY 2023 budget request to 80 – the latter figure only five fewer F-35 aircraft than what was approved for FY 2022. So much for scaling back on the F-35 program.
Other major UPL requests include KC-130J logistics aircraft for the Navy (three aircraft at $446.2 million) and Marines (two aircraft at $252.9 million), two E-2D aircraft for the Navy at $399.9 million, modernized Abrams tanks for the Army at $592 million, and EC-37B electronic warfare aircraft for the Air Force at $978.5 million.
Congress and the military have been going through the UPL exercise – and, in fact, Congress has been increasing UPL requirements for the military – for years now. The practical impact of UPLs is that they give lawmakers an easy blueprint for increasing the military's budget, a favorite practice of hawkish Republicans and Democrats alike no matter who is president.
UPLs helped inform Congress' $27 billion plus-up to the military's budget in FY 2022, and the following chart demonstrates how that one-time plus-up has reset the military's baseline budget for years to come. Whereas before the $27 billion plus-up – and other important developments, such as inflation – DoD had planned for their FY 2023 budget to settle at $731 billion, rising to $788 billion in FY 2027, now DoD plans for a $773 billion budget in FY 2023 and a staggering $828 billion budget in FY 2027.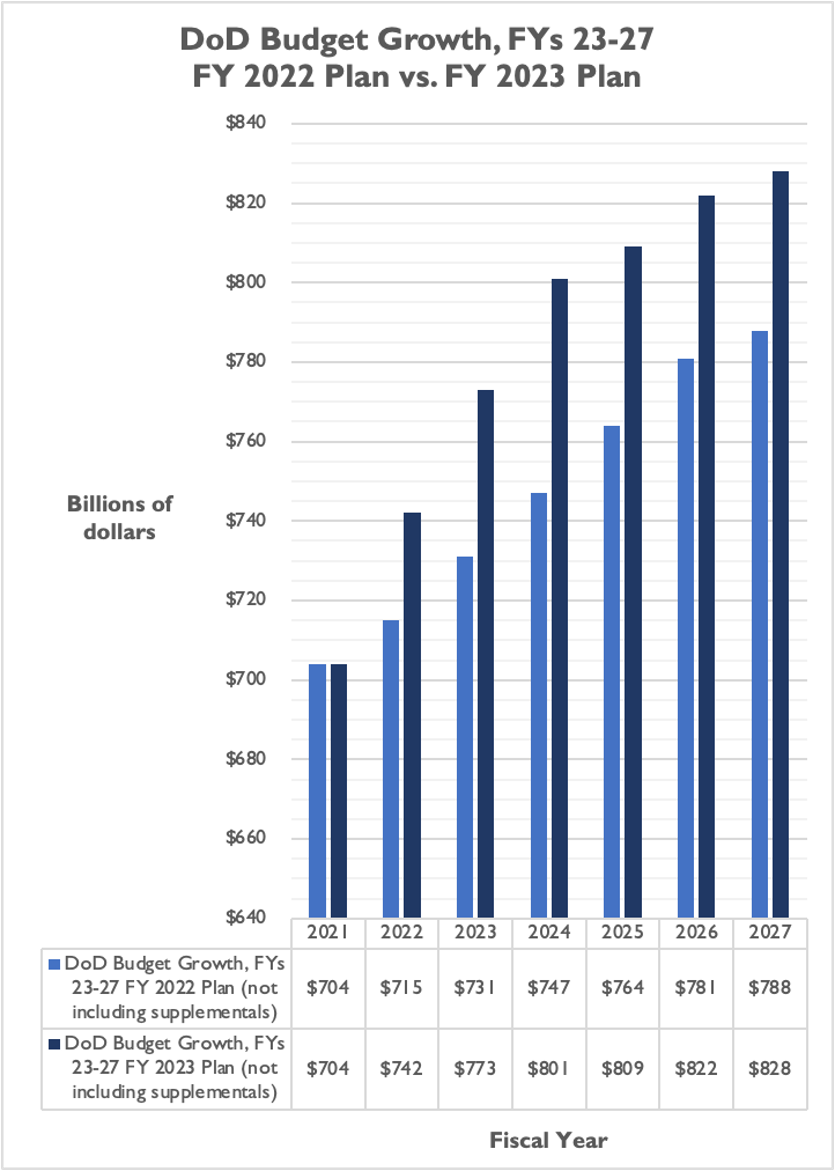 Expect FY 2023 UPLs – and lawmakers' regular efforts to increase the defense budget – to set this baseline even higher again next year.
NTU has previously outlined actions Congress can take to cut back on these wasteful and often rubber-stamped increases to the defense budget:
Repeal Congressional requirements to create UPLs: NTU does not expect that repealing the requirements will end UPLs once and for all, but we do believe that it would cut down on wasteful requests.
Require consistency and transparency in the reporting of unfunded priorities requested and fulfilled by Congress: As noted above, NTU and other taxpayer advocates have to rely on often-paywalled news and individual investigations to obtain UPLs. These requests should be public and listed in one place. The lawmakers in charge of authorizations and appropriations should also make a habit of reporting, in one place, which unfunded priorities they actually fulfill on a year-to-year basis.
Ask the military to include potential offsets or budget savings to their unfunded priorities requests: If UPL items are truly "priorities," as the term implies, then the military branches or combatant commands should be able to identify wasteful spending elsewhere in the nearly $800 billion budget – or long-term programs that DoD could scale back on – that would offset the cost of fulfilling their unfunded "priorities."
NTU and other civil society organizations have asked Secretary of Defense Lloyd Austin to take a leadership role in asking the service branches and combatant commands to cut back on their UPL requests. Nothing is preventing these components from doing what U.S. Strategic Command just did by telling Congress that "USSTRATCOM does not have any unfunded requirements to provide for your consideration."
---
[1] Bloomberg Government content is behind a paywall.