This week, Democratic lawmakers released the broad outlines of a deal negotiated between moderates and liberals to include prescription drug pricing provisions in the reconciliation bill. NTU raised immediate concerns with the early details of the deal, warning that the proposals could negatively affect patients, taxpayers, and the U.S. health care sector broadly.
Lawmakers released legislative text for the proposals on November 3.
For a brief overview, the new prescription drug pricing language makes three major changes to current prescription drug policy in the U.S.:
It will require Medicare to negotiate drug prices from the top down in Part D, replacing the current negotiations that take place between private Part D plans and manufacturers across the country;

It will place a cap on price increases for drugs in Part D by forcing manufacturers to rebate Medicare if they raise their prices faster than a broad measure of inflation; and

It will cap out-of-pocket costs in Part D for the first time, at $2,000 per patient per year, and redesign the Part D benefit to reduce taxpayer exposure to high drug costs.
On the latter issue, NTU has long been supportive of efforts to redesign the Part D benefit. Some proposals have been modeled by the Congressional Budget Office to actually save taxpayers money while also protecting seniors with an out-of-pocket cap. These proposals would do so by transferring liability in the catastrophic phase of the Part D benefit (where drug spending is highest) from Medicare (i.e., taxpayers) to insurance plans. It is unclear as of this writing whether the Democrats' new Part D redesign plan will save taxpayers money.
Unfortunately, the first two planks of the new drug pricing deal are deeply troubling to NTU, and should be troubling to the nation's taxpayers as well.
"Allowing" Medicare to negotiate prescription drug prices has long been popular in public polling, but as NTU recently pointed out, the poll questions often miss three key points:
The public is less certain about price negotiations when they hear about the trade-offs, such as reduced access to drugs and less research and development;

The more than 300 organizations sponsoring Medicare Part D plans already negotiate the price of drugs, earning "postsale rebates and discounts" from manufacturers based on enrollee populations and negotiating tools like formulary placement; and

The Congressional Budget Office (CBO) reported in 2007 (and reconfirmed in 2019) that Medicare price negotiations would not be effective without a proverbial 'stick' for HHS, either a national formulary or mandatory price concessions/reductions; the formulary concept is unpopular, hence H.R. 3's excise tax proposal.
Indeed, requiring Medicare to negotiate drug prices would upend private-sector negotiations happening every year in Part D. And by seeking hundreds of billions of dollars in the form of higher taxes or rebates, policymakers could undermine the resources necessary to develop new and improved prescription drugs for patients in America and around the world.
The November 2021 Democratic agreement is similar to House Democrats' long-running H.R. 3 proposal, which CBO has warned could lead to fewer drugs developed in the coming decades. The new agreement is less ambitious in scope than H.R. 3 and includes some carve-outs for small biotech companies, but still contains significant price controls that could push the cost bubble of researching, developing, and distributing prescription drugs to other parts of society.
Here's a comparison of the mandatory Medicare negotiation provisions of H.R. 3 and the November 2021 agreement: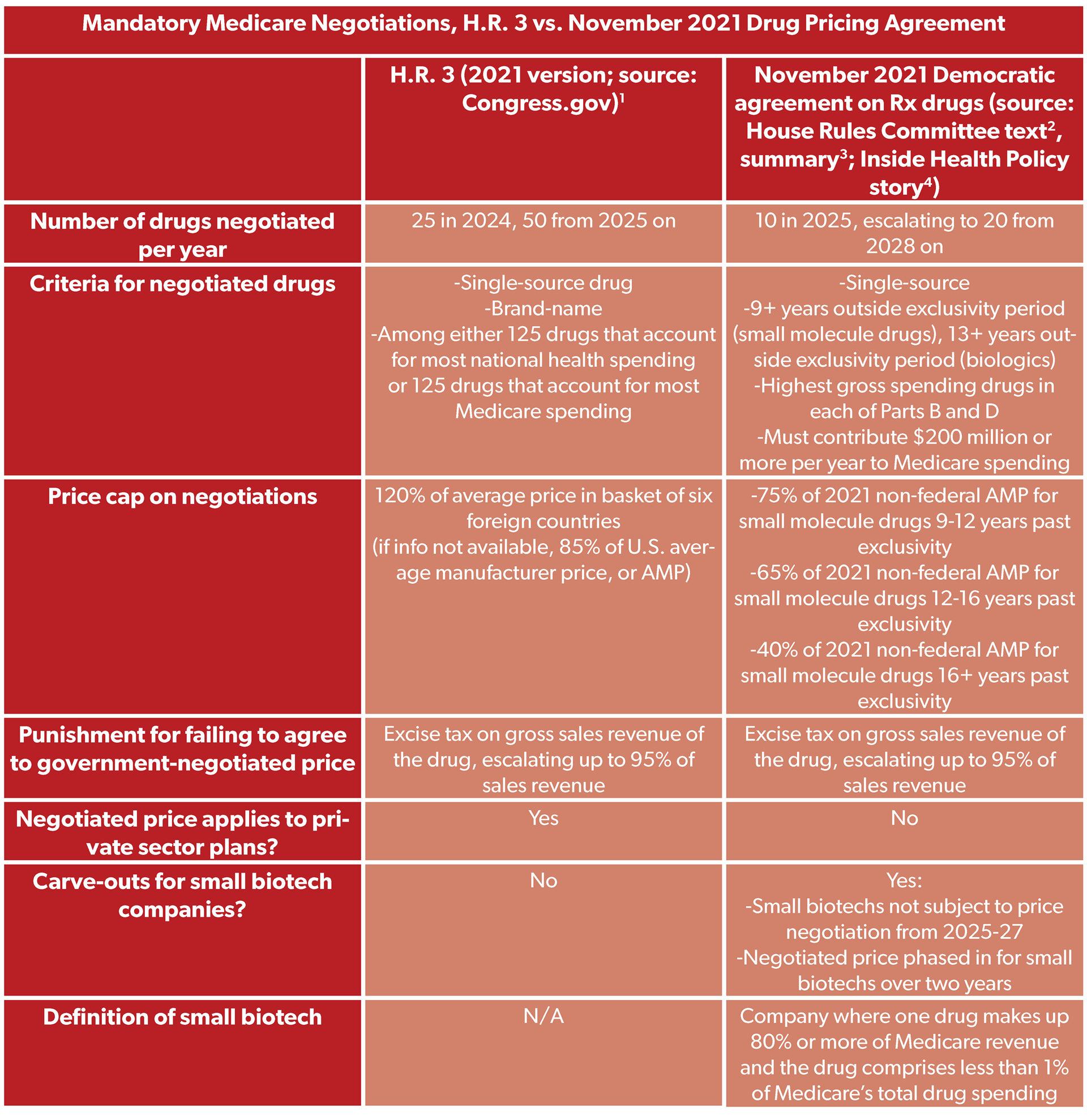 NTU has also written extensively on inflation cap proposals. Here's our recent breakdown of proposals to tie the price of drugs in Medicare to a broad measure of consumer prices:
"To peg the allowable price Medicare will pay for a prescription drug to a broad measure of price increases like the Consumer Price Index (CPI) is to effectively attempt to set the price of the drug. While there are obvious examples of abusive price increases that are clearly not tied to market conditions, such as Martin Shkreli increasing the price of malaria and HIV medicine from $13.50 to $750, manufacturers can and do weigh more than just CPI in setting the price of drugs. Private payers in Part D should be able to push back on what they deem to be excessive price increases in negotiations with manufacturers, and private payer negotiations also affect the price of drugs in Part B because Part B reimbursement is based on average sales price.
But it makes little sense to tell manufacturers they will pay a penalty for increasing the price of their drug even a penny beyond a blunt and market-wide measure of inflation, just as it would be absurd for the government to try to set the price of lumber by demanding forest landowners pay a penalty for prices that rose beyond CPI. Federal policymakers should trust the market to guard against excessive price increases, and should instead be focused on protecting the patients most exposed to high drug costs…"
As we noted in our initial statement on the proposal, if there is a silver lining in this proposal it is that lawmakers are proposing to redesign the Part D benefit. CBO scoring of the 2020 version of bipartisan Senate legislation to redesign Part D found the redesign would save taxpayers $3.4 billion over 10 years while capping out-of-pocket (OOP) costs for seniors in Part D at $3,100.
The OOP cap in Part D under the new November 2021 compromise is 35 percent smaller than the Senate bill, at $2,000 per patient per year. It is unclear if this new version of Part D redesign will save taxpayers money on net, but NTU has urged lawmakers to ensure that Part D redesign is budget neutral on its own, and that prescription drug price controls do not pay for a Part D OOP cap.
Here's a comparison of Part D under current law, under the 2019 version of H.R. 3, under the 2020 version of the bipartisan Senate legislation, and under the November 2021 reconciliation agreement: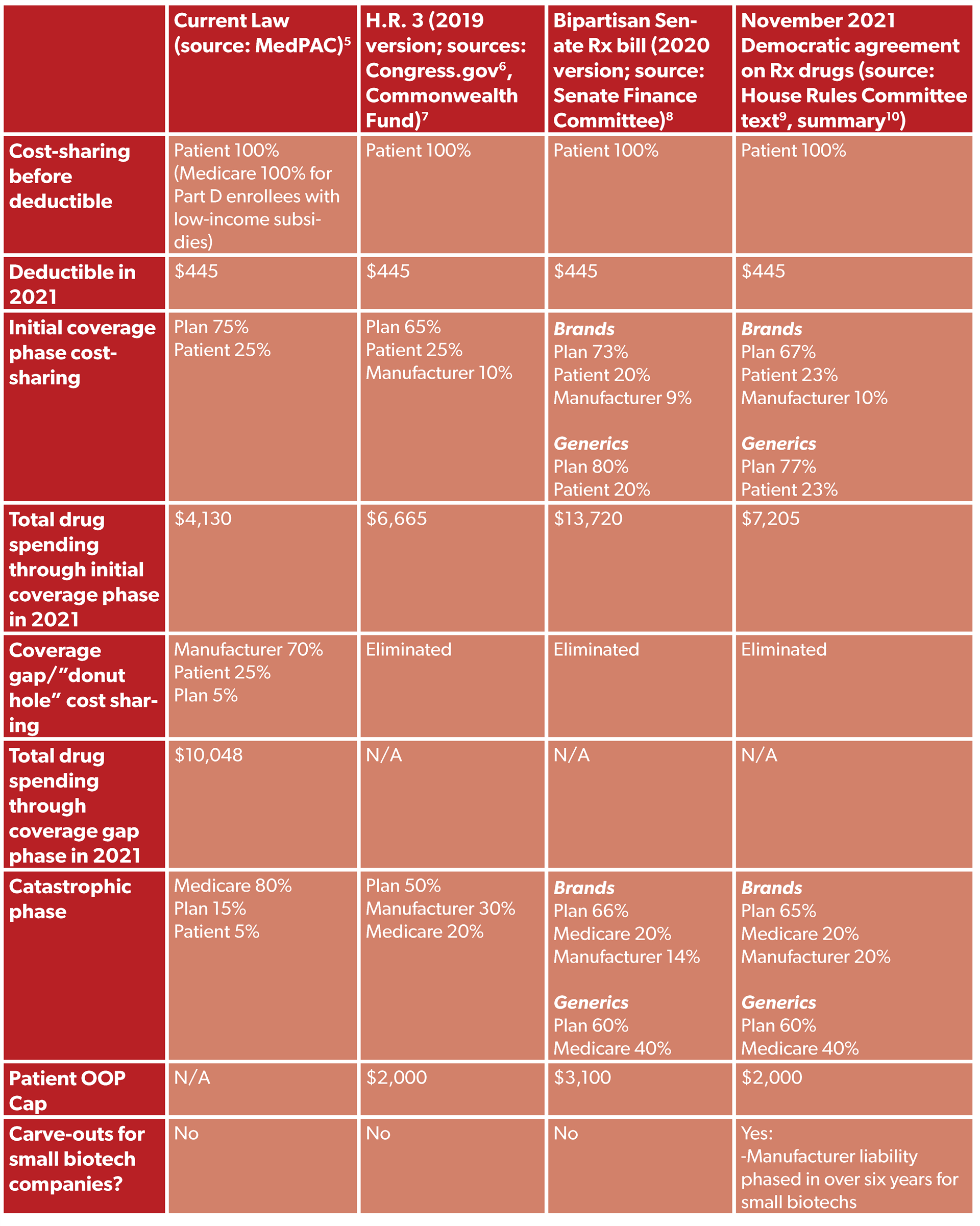 Overall, the prescription drug pricing provisions just agreed to by Congressional Democrats raise significant concerns for patients (regarding access to new and existing drugs), taxpayers (who foot the bill for all health care services, including the roughly 90 percent of health spending that is not on retail prescription drugs), and the health system at large (where studies have shown that prescription drug utilization can reduce more expensive costs in other health settings like hospitals). Lawmakers should reconsider the inclusion of mandatory Medicare price negotiation and inflation caps in their reconciliation bill, and focus instead on Part D redesign efforts that have earned bipartisan and cross-ideological support.
1 Congress.gov. "H.R.3 - Elijah E. Cummings Lower Drug Costs Now Act." Introduced April 22, 2021. Retrieved from: https://www.congress.gov/bill/117th-congress/house-bill/3 (Accessed November 5, 2021.)
2 House Committee on Rules. "Rules Committee Print 117-18; Text of H.R. 5376, Build Back Better Act." November 2021. Retrieved from: https://rules.house.gov/sites/democrats.rules.house.gov/files/BILLS-117HR5376RH-RCP117-18.pdf#page=2064 (Accessed November 5, 2021.)
3 House Committee on Budget. "Build Back Better Act — Rules Committee Print 117-18; Section-By-Section." November 2021. Retrieved from: https://rules.house.gov/sites/democrats.rules.house.gov/files/Section_by_Section_BBB_RCP117-18__.pdf#page=176 (Accessed November 5, 2021.)
4 Wilkerson, John. "Democrats' Deal Now Protects Biologics From Price Negotiation For 13 Years." Inside Health Policy, November 5, 2021. Retrieved from: https://www.bgov.com/core/news/#!/articles/R232C9BUJSAQ (Accessed November 5, 2021.)
5 MedPAC. "The Medicare prescription drug program (Part D): Status report." March 2021. Retrieved from: https://www.medpac.gov/docs/default-source/reports/mar21_medpac_report_ch13_sec.pdf?sfvrsn=0#:~:text=In%20Part%20D%2C%20Medicare%20pays,bids%20submitted%20by%20plan%20sponsors.#page=9 (Accessed November 5, 2021.)
6 Congress.gov. "H. Rept. 116-324 - LOWER DRUG COSTS NOW ACT OF 2019." December 6, 2019. Retrieved from: https://www.congress.gov/congressional-report/116th-congress/house-report/324/1?q=%7B%22search%22%3A%5B%22H.R.+3%22%5D%7D&r=1&overview=closed (Accessed November 5, 2021.)
7 Martin, Kristi. "Medicare Part D Redesign." Commonwealth Fund, May 5, 2021. Retrieved from: https://www.commonwealthfund.org/publications/explainer/2021/may/medicare-part-d-redesign (Accessed November 5, 2021.)
8 Senate Committee on Finance. "Prescription Drug Pricing Reduction Act of 2020; Section-By-Section Summary." July 2020. Retrieved from: https://www.finance.senate.gov/imo/media/doc/PDPRA%202020%20Section%20by%20Section.pdf#page=4 (Accessed November 5, 2021.)
9 House Committee on Rules. "Rules Committee Print 117-18; Text of H.R. 5376, Build Back Better Act." November 2021. Retrieved from: https://rules.house.gov/sites/democrats.rules.house.gov/files/BILLS-117HR5376RH-RCP117-18.pdf#page=2064 (Accessed November 5, 2021.)
10 House Committee on Budget. "Build Back Better Act — Rules Committee Print 117-18; Section-By-Section." November 2021. Retrieved from: https://rules.house.gov/sites/democrats.rules.house.gov/files/Section_by_Section_BBB_RCP117-18__.pdf#page=176 (Accessed November 5, 2021.)