Moderate Democrats in Congress may have won a key concession from progressives on the "Build Back Better Act" social spending plan advanced by the Biden administration: significantly cutting the topline spending in the bill, potentially by trillions of dollars. However, policymakers and taxpayers should be wary of tried and true timing tricks that may make the Build Back Better Act (BBB) appear less expensive than $3.5 trillion.
If it's a major priority in BBB, chances are Congressional Democrats are proposing ending it after two or three or four years, rather than enacting these policy changes on a permanent basis. While this will bring down the headline amount of spending in BBB,[1] potentially fitting the agenda within a lower topline spending number, the practical impact of so-called program 'cliffs' is to create enormous political pressure to extend the programs.
A few prominent examples include: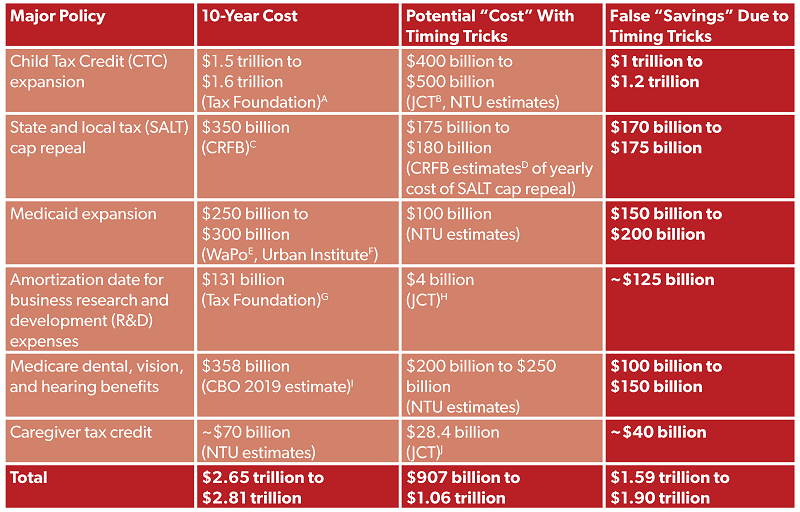 Add these (very) rough estimates up, and between $1.6 trillion and $1.9 trillion in 10-year costs could be hidden from the public.[5] CRFB has done similar work, estimating the potential total cost of BBB to be between $5 trillion and $5.5 trillion over a decade, rather than the headline cost of $3.5 trillion, depending on the policy choices Congressional Democrats and the Biden administration make.[6]
Unfortunately, hiding the true long-term costs of BBB may be part of some policymakers' strategy, now that moderates have negotiated a nominal decrease to the topline spending in BBB. Rep. Alexandria Ocasio-Cortez (D-NY), Congressional Progressive Caucus Chair Pramila Jayapal (D-WA), and White House senior advisor (and former Congressman) Cedric Richmond are among the progressive voices recently suggesting shorter timeframes for programs, which could help lawmakers pass a version of BBB that could win support from progressives and moderates.
The policy choices mentioned above, though, would be tantamount to kicking a multi trillion-dollar can down the road, creating irresponsible policy and spending cliffs in the near future and hiding the true cost of BBB from taxpayers. To be clear, Congressional Democrats and the Biden administration are not the first set of policymakers to contemplate such choices. TCJA, for example, allowed for popular tax cuts on the individual side of the code to expire after 2025, and delayed some unpopular potential tax hikes (which helped offset the bill's tax cuts) until 2022 or later.
Policymakers should strive for a more honest approach, though, and ensure that voters and taxpayers understand the full cost of BBB. A better approach for fitting policymakers' agenda into a smaller BBB topline would be to cut proposed new programs entirely or target expensive programs at Americans who truly need taxpayer-funded assistance. Trillions of dollars could be on the line.
---