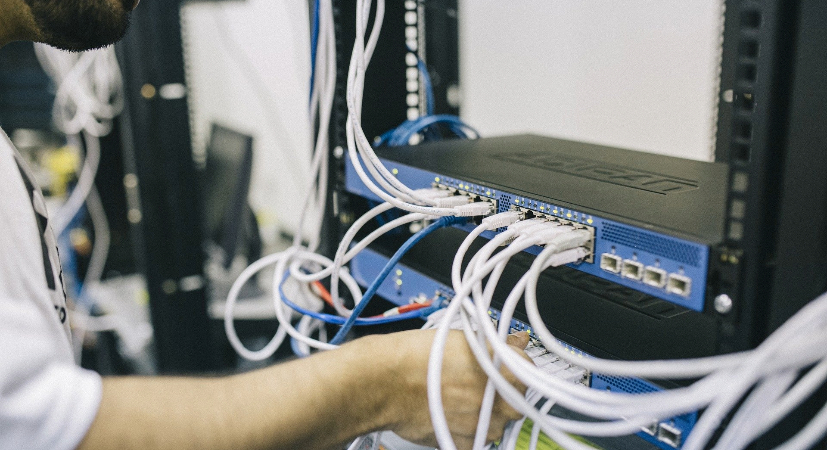 In a Divided Congress, Technology and Telecommunications Are Clear Bipartisan Priorities
With the midterm elections firmly in the rearview mirror, lawmakers are now looking to navigate the remainder of the lame duck and set their priorities for the next Congress. With slim majorities in both chambers, it will be a challenge to set a clear agenda to fix the country's current economic malaise. However, at the top of the list for bipartisan priorities should be maintaining and enhancing America's historical leadership in tech and telecommunications, especially given tough competition from other major powers.
In a post-Covid world, the trend towards digitization and internet access for all is not slowing down. China has made aggressive multi-billion dollar investments in African telecommunications as an instrument of national power. Chinese investment in the region has shifted from physical infrastructure to digital infrastructure through state capitalist partners like Huawei and ZTE. To counter this investment, both President Trump and President Biden highlighted Africa as a major focus of foreign policy. Should America go toe-to-toe with China in spending more on specific industries to maintain a competitive edge in high-tech industry?
The answer is that American lawmakers should focus on promoting a fertile business environment for innovation. None of our major telecommunication breakthroughs of the last century have been the result of Congress or the executive branch picking winners and losers in the economy. Yes, the internet was invented through DARPA, but it only became an economic force with private sector innovation in the 1990's and 2000's.
Given recent layoffs across the tech industry and with rampant inflation, it is clear that the federal government should focus on removing barriers to innovation and providing regulatory stability instead of further spending.
Americans are historically and currently skeptical towards a Chinese-style model of state capitalism and command and control economy. Further, it's obvious that Congress is not the source of technological innovation or even creating the right type of program to meet taxpayers' needs for telecommunication technology. Instead, Congress should focus on oversight and bipartisan priorities to ensure a level playing field for homegrown innovators.
Federal Trade Commission
Firstly, Congress should prevent the Federal Trade Commission (FTC) receiving even more expansive enforcement powers under legislation like the American Innovation and Choice Online Act of 2021 (S. 2992). Already, Commissioner Lina Khan has put a chill on economic activity through overzealous scrutiny of routine mergers and acquisitions and through broad and sweeping regulatory expansion. Just recently, the FTC voted to try and block Microsoft's acquisition of Activision. This is over the potential gaming platform exclusivity of certain video games like Call of Duty. However, this practice has already been long in place particularly with Sony and its marquee franchises, including God of War and many Final Fantasy games. In another instance, why is the FTC concerned about Meta's acquisition of Within, when the "market" in question is extremely small and has several other active competitors that aren't under the Meta umbrella? Take companies like Peloton, Mirror, or any other myriad fitness applications on the market. Meta's market position in their traditional channels is also under major threat due to competition from TikTok and slumping ad revenue. One look at Meta's share price over the last year demonstrates they are far from an invulnerable monopoly. NTU has commented on one of the most recent FTC issues, the data privacy rulemaking that is underway. This rulemaking will likely result in an unconstitutional expansion of the FTC's enforcement on data privacy and shows how far the current FTC is willing to step outside their boundaries. Congress must avoid further empowering the FTC with more regulatory weapons under the misleading cloak of antitrust efforts.
Tax Code Competitiveness
One easy step Congress can take in the right direction would be to permanently enact the full and immediate expensing of research and development spending by businesses. Grant awards too often come with lengthy application processes, political influence, or technology-specific criteria. This would allow all businesses in telecommunications to have an equal incentive to create the next major innovation.
Unleash Spectrum
Technological innovation happens at a breakneck speed and our rivals are sprinting ahead in one crucial area - the use of spectrum as an economic driver. American companies led the breakthrough and subsequent economic benefits in 4G and 4G LTE because as first movers, they were able to create an American-led specification and technology framework. However for the 5G movement, the United States is lagging, partially due to a substantial amount of spectrum that is reserved for the federal government as compared to our rivals. Even an independent 2019 Defense Innovation Board paper stated, "DoD must bear in mind that the status quo of spectrum allocation is unsustainable." The government, and the Pentagon in particular, must recognize the need for additional spectrum to be released for commercial use because a 5G world led by our rivals threatens our national security.
Lawmakers should recognize that 5G will enable a multitude of technological efficiencies that were once only science fiction. It could help enable smart cities, build a more energy efficient power grid, and help create safer factories. NTU supports the enactment of the bipartisan and bicameral Spectrum Innovation Act in order to reauthorize the FCC's spectrum auction authority (H.R. 7624, S. 4117). Unleashing government-held spectrum for private sector use will help American companies compete and win on the global technology market.
Oversight
Last year, there was $65 billion poured into broadband in the Infrastructure Investment and Jobs Act. Even the nonpolitical Government Accountability Office states that there are "over 100 federal programs—administered by 15 agencies—that could be used to expand access." However, they caution that, "the number of programs has led to a fragmented, overlapping patchwork of funding." Oversight on these programs, creation of best practices for states, and efforts to more effectively map broadband access will be critical for the wise use of taxpayer dollars.
Conclusion
In conclusion, Congress should acknowledge that the spirit of American innovation resides in private sector ingenuity. Their role is to support and sustain the same principles and ecosystem that led to the internet revolution so that the next big technological breakthrough is homegrown on American soil.
Finally, for those worried about China's growing influence in the developing world, one should look to a past superpower rival's experience in Africa. The Soviet Union spent decades supporting political movements and investing heavily in nation-building, but over time realized that African nations would continue to pursue their own aims rather than fall under their sway. It's likely that the Chinese experience in the continent will eventually end up in the same direction. The United States is better off exerting our leadership in the developing world through trade and private sector cooperation, rather than a heavy handed approach led by the government.