It's been an exciting day in DC. If you haven't heard, there was an earthquake. Then there was a piece in today's Wall Street Journal by Cass Sunstein, who is an administrator in OMB's Office of Information and Regulatory Affairs. He writes:
Last May, agencies released over two dozen preliminary plans, identifying reforms that will save billions of dollars. At the same time, agencies asked the public to evaluate the preliminary plans, identify new reforms, and participate in creating a 21st-century regulatory system that protects public health and safety while also promoting economic growth and job creation.

Today I can announce that agencies are releasing their final plans, including hundreds of initiatives that will reduce costs, simplify the system, and eliminate redundancy and inconsistency.
Here is one of the reforms that Mr. Sunstein announced today: "By the end of this year, the Internal Revenue Service will eliminate 55 million hours in annual paperwork burdens by consolidating reporting requirements and streamlining various tax forms."
I hope the streamlining hasn't brought us to this tax form.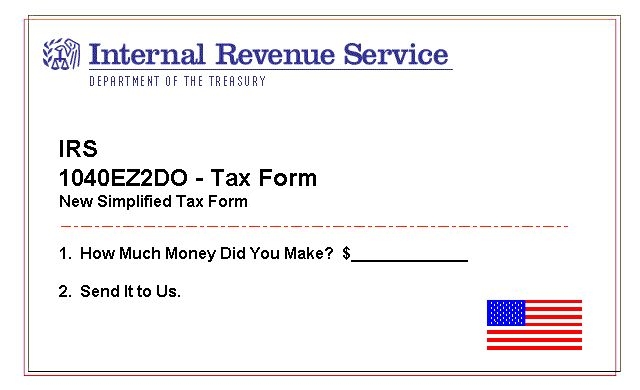 (cybersalt.org)
Earthquakes. Regulatory reform. What's next? Warren Buffett writing a check to the Treasury Department because he wants to pay more taxes? These are certainly exciting times in DC.