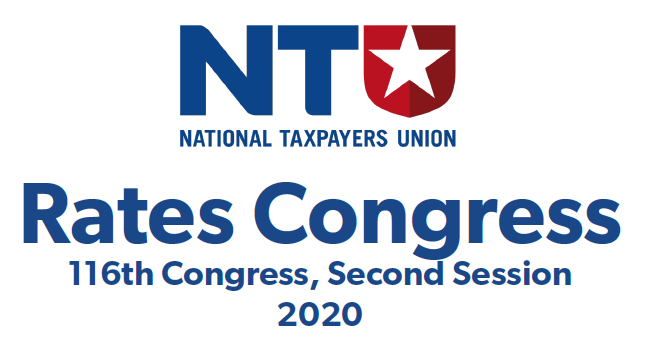 The National Taxpayers Union has released the congressional ratings scorecard for the second session of the 116th Congress. NTU's ratings are the most comprehensive analysis of the way that members of Congress vote for taxpayers. For our 2020 congressional ratings, NTU scored a total of almost 200 roll call votes in Congress, which includes 17 votes in the Senate and 178 votes in the House of Representatives.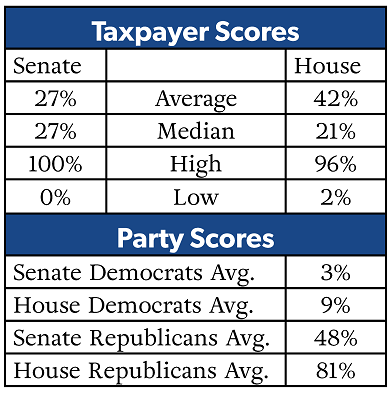 Every vote with a fiscal impact received a score and a weight from NTU. This year, 18 Representatives and 5 Senators had a voting record worthy of a "Taxpayers' Friend" award, which are given to the members of Congress who set a high standard for protecting taxpayers' interests.
The Taxpayer Score measures the strength of support for reducing spending and opposing higher taxes. In general, a higher score is better because it means a member of Congress voted to spend less money.
The Taxpayer Score can range between zero and 100. We do not expect anyone to score a 100, nor has any legislator ever scored a perfect 100 without missing a vote in the multi-year history of the comprehensive NTU scoring system. A high score does not mean that the member of Congress was opposed to all spending or all programs. High-scoring members have indicated that they would vote for many programs if the amount of spending were lower or if the budget were balanced. A member who wants to increase spending on some programs can achieve a high score if he or she votes for offsetting cuts in other programs. A zero score would indicate that the member of Congress approved every spending proposal and opposed every pro-taxpayer reform.
NTU believes a score qualifying for a grade of "A" indicates the member is one of the strongest supporters of responsible tax and spending policies. We are pleased to give these members of Congress our "Taxpayers' Friend Award."
Click here for the PDF publication of NTU Rates Congress for the second session of the 116th Congress.
You may view the 2020 list of Taxpayers' Friends in the House and Senate here.
To view the list of votes used to establish the NTU Ratings, click here.
Senate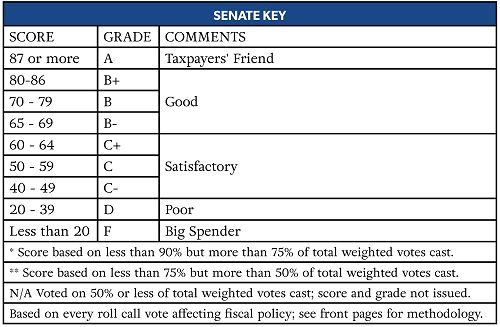 | | | | | | | | | |
| --- | --- | --- | --- | --- | --- | --- | --- | --- |
| Alabama | | | Kentucky | | | North Dakota | | |
| Jones | 0% | F | McConnell | N/A | N/A | Cramer | 37% | D |
| Shelby | 58% | C | Paul | 97% | A | Hoeven | 37% | D |
| State Average | 29% | | State Average | 97% | | State Average | 37% | |
| Alaska | | | Louisiana | | | Ohio | | |
| Murkowski | 25% | D | Cassidy | 51% | C | Brown | 5% | F |
| Sullivan | 39% | D | Kennedy | 87% | A | Portman | 32% | D |
| State Average | 32% | | State Average | 69% | | State Average | 19% | |
| Arizona | | | Maine | | | Oklahoma | | |
| Kelly | N/A | N/A | Collins | 11% | F | Inhofe | 49% | C- |
| McSally** | 20% | D | King | 0% | F | Lankford | 63% | C+ |
| Sinema | 0% | F | State Average | 6% | | State Average | 56% | |
| State Average | 10% | | Maryland | | | Oregon | | |
| Arkansas | | | Cardin | 0% | F | Merkley | 21% | D |
| Boozman | 37% | D | Van Hollen | 0% | F | Wyden | 21% | D |
| Cotton | 45% | C- | State Average | 0% | | State Average | 21% | |
| State Average | 41% | | Massachusetts | | | Pennsylvania | | |
| California | | | Markey* | 27% | D | Casey | 0% | F |
| Feinstein | 0% | F | Warren* | 25% | D | Toomey | 74% | B |
| Harris** | 7% | F | State Average | 26% | | State Average | 37% | |
| State Average | 4% | | Michigan | | | Rhode Island | | |
| Colorado | | | Peters | 0% | F | Reed | 0% | F |
| Bennet | 0% | F | Stabenow | 0% | F | Whitehouse | 0% | F |
| Gardner* | 14% | F | State Average | 0% | | State Average | 0% | |
| State Average | 7% | | Minnesota | | | South Carolina | | |
| Connecticut | | | Klobuchar | 0% | F | Graham* | 37% | D |
| Blumenthal | 0% | F | Smith | 0% | F | Scott | 43% | C- |
| Murphy | 0% | F | State Average | 0% | | State Average | 40% | |
| State Average | 0% | | Mississippi | | | South Dakota | | |
| Delaware | | | Hyde-Smith | 45% | C- | Rounds* | 55% | C |
| Carper | 25% | D | Wicker | 37% | D | Thune | 37% | D |
| Coons | 3% | F | State Average | 41% | | State Average | 46% | |
| State Average | 14% | | Missouri | | | Tennessee | | |
| Florida | | | Blunt | 37% | D | Alexander | 31% | D |
| Rubio | 30% | D | Hawley | 51% | C | Blackburn | 63% | C+ |
| Scott* | 48% | C- | State Average | 44% | | State Average | 47% | |
| State Average | 39% | | Montana | | | Texas | | |
| Georgia | | | Daines | 49% | C- | Cornyn | 44% | C- |
| Loeffler* | 5% | C | Tester | 0% | F | Cruz | 80% | B+ |
| Perdue | 56% | C | State Average | 25% | | State Average | 62% | |
| State Average | 53% | | Nebraska | | | Utah | | |
| Hawaii | | | Fischer | 51% | C | Lee* | 100% | A |
| Hirono | 0% | F | Sasse | 53% | C | Romney | 49% | C- |
| Schatz | 0% | F | State Average | 52% | | State Average | 75% | |
| State Average | 0% | | Nevada | | | Vermont | | |
| Idaho | | | Cortez Masto | 0% | F | Leahy | 5% | F |
| Crapo | 60% | C+ | Rosen | 0% | F | Sanders** | 28% | D |
| Risch | 60% | C+ | State Average | 0% | | State Average | 17% | |
| State Average | 60% | | New Hampshire | | | Virginia | | |
| Illinois | | | Hassan | 0% | F | Kaine | 0% | F |
| Duckworth | 0% | F | Shaheen | 0% | F | Warner | 0% | F |
| Durbin | 0% | F | State Average | 0% | | State Average | 0% | |
| State Average | 0% | | New Jersey | | | Washington | | |
| Indiana | | | Booker | 21% | D | Cantwell | 0% | F |
| Braun | 87% | A | Menendez | 0% | F | Murray | 0% | F |
| Young | 35% | D | State Average | 11% | | State Average | 0% | |
| State Average | 61% | | New Mexico | | | West Virginia | | |
| Iowa | | | Heinrich | 0% | F | Capito | 32% | D |
| Ernst | 38% | D | Udall | 0% | F | Manchin | 4% | F |
| Grassley | 39% | D | State Average | 0% | | State Average | 18% | |
| State Average | 39% | | New York | | | Wisconsin | | |
| Kansas | | | Gillibrand | 5% | F | Baldwin | 0% | F |
| Moran | 48% | C- | Schumer | 0% | F | Johnson | 63% | C+ |
| Roberts | 37% | D | State Average | 3% | | State Average | 32% | |
| State Average | 43% | | North Carolina | | | Wyoming | | |
| | | | Burr | 37% | D | Barrasso | 51% | C |
| | | | Tillis | 40% | C- | Enzi* | 58% | C |
| | | | State Average | 39% | | State Average | 55% | |
House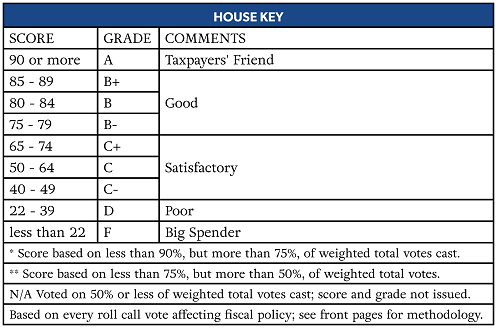 Alabama

Indiana

North Dakota

Aderholt

85%

B+

Baird

82%

B

Armstrong

87%

B+

Brooks

89%

B+

Banks

87%

B+

State Average

87%

Byrne**

86%

B+

Brooks

68%

C

Ohio

Palmer

91%

A

Bucshon

78%

B-

Balderson

73%

C+

Roby**

78%

B-

Carson

4%

F

Beatty

6%

F

Rogers*

81%

B

Hollingsworth

85%

B+

Chabot

83%

B

Sewell

5%

F

Pence

85%

B+

Davidson

96%

A

State Average

73%

Visclosky

6%

F

Fudge

10%

F

Alaska

Walorski

75%

B-

Gibbs*

75%

B-

Young Don

55%

C-

State Average

63%

Gonzalez

71%

C+

State Average

55%

Iowa

Johnson

75%

B-

Arizona

Axne

18%

F

Jordan

94%

A

Biggs

94%

A

Finkenauer

15%

F

Joyce

61%

C

Gallego

4%

F

King**

92%

A

Kaptur

4%

F

Gosar*

94%

A

Loebsack

2%

F

Latta

84%

B

Grijalva

8%

F

State Average

32%

Ryan

4%

F

Kirkpatrick*

6%

F

Kansas

Stivers

72%

C+

Lesko

86%

B+

Davids

18%

F

Turner

72%

C+

O'Halleran

3%

F

Estes

87%

B+

Wenstrup

84%

B

Schweikert

93%

A

Marshall

82%

B

State Average

60%

Stanton

4%

F

Watkins

83%

B

Oklahoma

44%

State Average

68%

Cole

75%

B-

Arkansas

Kentucky

Hern

88%

B+

Crawford

80%

B

Barr

81%

B

Horn

31%

D

Hill

82%

B

Comer

85%

B+

Lucas*

78%

B-

Westerman

86%

B+

Guthrie*

82%

B

Mullin**

84%

B

Womack

80%

B

Massie

96%

A

State Average

71%

State Average

82%

Rogers

73%

C+

Oregon

California

Yarmuth

6%

F

Blumenauer

17%

F

Aguilar

4%

F

State Average

71%

Bonamici

14%

F

Barragan

14%

F

Louisiana

DeFazio

7%

F

Bass

6%

F

Abraham

N/A

N/A

Schrader

32%

D

Bera

4%

F

Graves

90%

A

Walden

69%

C

Brownley

4%

F

Higgins

91%

A

State Average

28%

Calvert

77%

B-

Johnson*

86%

B+

Pennsylvania

Carbajal

3%

F

Richmond

10%

F

Boyle

15%

F

Cardenas

5%

F

Scalise

92%

A

Cartwright

10%

F

Chu

11%

F

State Average

74%

Dean

4%

F

Cisneros

4%

F

Maine

Doyle

13%

F

Cook*

76%

B-

Golden

24%

D

Evans

6%

F

Correa

7%

F

Pingree

6%

F

Fitzpatrick

30%

D

Costa

4%

F

State Average

15%

Houlahan

4%

F

Cox

4%

F

Maryland

Joyce

83%

B

Davis

4%

F

Brown

4%

F

Keller

85%

B+

DeSaulnier

18%

F

Harris

94%

A

Kelly

82%

B

Eshoo

6%

F

Hoyer

4%

F

Lamb

21%

F

Garamendi

4%

F

Mfume*

7%

F

Meuser

81%

B

Garcia**

73%

C+

Raskin

19%

F

Perry

95%

A

Gomez

19%

F

Ruppersberger

2%

F

Reschenthaler*

78%

B-

Harder

4%

F

Sarbanes

6%

F

Scanlon

4%

F

Huffman

13%

F

Trone

5%

F

Smucker

83%

B

Khanna

23%

D

State Average

18%

Thompson

76%

B-

LaMalfa

85%

B+

Massachusetts

Wild

12%

F

Lee

17%

F

Clark

9%

F

State Average

43%

Levin

4%

F

Keating

5%

F

Rhode Island

Lieu

10%

F

Kennedy

20%

F

Cicilline

4%

F

Lofgren

13%

F

Lynch

6%

F

Langevin

4%

F

Lowenthal

9%

F

McGovern

19%

F

State Average