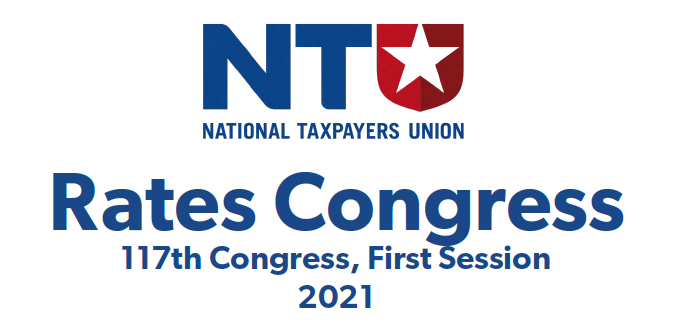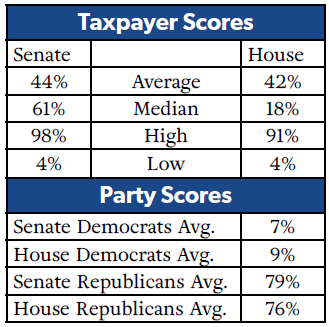 Every year National Taxpayers Union (NTU) rates U.S. Representatives and Senators on their actual votes—every vote that affects taxes, spending, and debt. Unlike most organizations that publish ratings, we refuse to play the "rating game" of focusing on only a handful of congressional votes on selected issues. The NTU voting study is the fairest and most accurate guide available on congressional spending.
NTU has no partisan ax to grind. All members of Congress are treated the same regardless of political affiliation. Our only constituency is the overburdened American taxpayer. Grades are given impartially, based on the Taxpayer Score.
Taxpayer Score
The Taxpayer Score measures the strength of support for reducing wasteful government spending, opposing higher taxes, and often opposing burdensome regulations that can stifle U.S. economic growth. In general, a higher score is better because it means a member of Congress voted to spend less money.
The Taxpayer Score can range between zero and 100. We do not expect anyone to score a 100, nor has any legislator ever scored a perfect 100—without missing a single vote—in the decades-long history of the comprehensive NTU scoring system. A high score does not mean that the member of Congress was opposed to all spending or all programs. High-scoring members have indicated that they would vote for many programs if the amount of spending were lower or if the spending were offset by cuts elsewhere in the budget. Indeed, a member who still wants to increase spending on some programs can achieve a high score if he or she votes for offsetting cuts. A zero score would indicate that the member of Congress approved every spending increase and opposed every pro-taxpayer reform.
Click here for the PDF publication of NTU Rates Congress for the first session of the 117th Congress.
To view the list of votes used to establish the NTU Ratings, click here.
Senate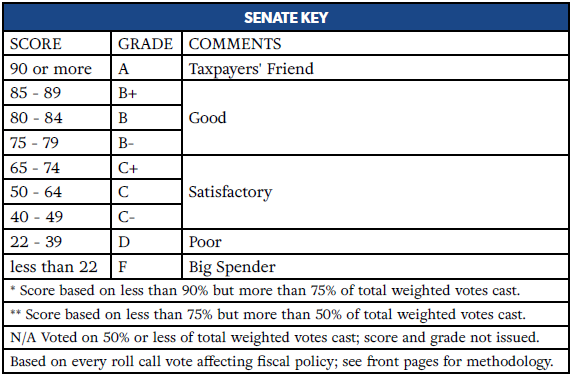 | | | | | | | | | |
| --- | --- | --- | --- | --- | --- | --- | --- | --- |
| Alabama | | | Kentucky | | | North Dakota | | |
| Shelby | 81% | B | McConnell | 66% | C+ | Cramer | 76% | B- |
| Tuberville | 89% | B+ | Paul | 97% | A | Hoeven | 77% | B- |
| State Average | 85% | | State Average | 82% | | State Average | 77% | |
| Alaska | | | Louisiana | | | Ohio | | |
| Murkowski | 61% | C | Cassidy | 77% | B- | Brown | 7% | F |
| Sullivan * | 63% | C | Kennedy | 84% | B | Portman | 67% | C+ |
| State Average | 62% | | State Average | 81% | | State Average | 37% | |
| Arizona | | | Maine | | | Oklahoma | | |
| Kelly | 8% | F | Collins | 62% | C | Inhofe | 80% | B |
| Sinema | 12% | F | King | 9% | F | Lankford | 89% | B+ |
| State Average | 10% | | State Average | 36% | | State Average | 85% | |
| Arkansas | | | Maryland | | | Oregon | | |
| Boozman | 83% | B | Cardin | 6% | F | Merkley | 10% | F |
| Cotton | 83% | B | Van Hollen | 4% | F | Wyden | 10% | F |
| State Average | 83% | | State Average | 5% | | State Average | 10% | |
| California | | | Massachusetts | | | Pennsylvania | | |
| Feinstein | 7% | F | Markey | 8% | F | Casey | 6% | F |
| Padilla | 9% | F | Warren | 7% | F | Toomey | 89% | B+ |
| State Average | 8% | | State Average | 8% | | State Average | 48% | |
| Colorado | | | Michigan | | | Rhode Island | | |
| Bennet | 6% | F | Peters | 6% | F | Reed | 5% | F |
| Hickenlooper | 7% | F | Stabenow | 6% | F | Whitehouse | 4% | F |
| State Average | 7% | | State Average | 6% | | State Average | 5% | |
| Connecticut | | | Minnesota | | | South Carolina | | |
| Blumenthal | 6% | F | Klobuchar | 7% | F | Graham | 67% | C+ |
| Murphy | 6% | F | Smith | 7% | F | Scott, T. | 85% | B+ |
| State Average | 6% | | State Average | 7% | | State Average | 76% | |
| Delaware | | | Mississippi | | | South Dakota | | |
| Carper | 9% | F | Hyde-Smith | 83% | B | Rounds ** | 66% | C+ |
| Coons | 9% | F | Wicker | 69% | C+ | Thune | 81% | B |
| State Average | 9% | | State Average | 76% | | State Average | 74% | |
| Florida | | | Missouri | | | Tennessee | | |
| Rubio | 80% | B | Blunt | 62% | C | Blackburn | 86% | B+ |
| Scott, R. | 85% | B+ | Hawley | 82% | B | Hagerty | 87% | B+ |
| State Average | 83% | | State Average | 72% | | State Average | 87% | |
| Georgia | | | Montana | | | Texas | | |
| Ossoff | 6% | F | Daines | 82% | B | Cornyn | 78% | B- |
| Warnock | 6% | F | Tester | 11% | F | Cruz | 92% | A |
| State Average | 6% | | State Average | 47% | | State Average | 85% | |
| Hawaii | | | Nebraska | | | Utah | | |
| Hirono | 6% | F | Fischer | 81% | B | Lee | 98% | A |
| Schatz | 4% | F | Sasse | 80% | B | Romney | 64% | C |
| State Average | 5% | | State Average | 81% | | State Average | 81% | |
| Idaho | | | Nevada | | | Vermont | | |
| Crapo | 77% | B- | Cortez Masto | 7% | F | Leahy | 6% | F |
| Risch | 77% | B- | Rosen | 7% | F | Sanders | 14% | F |
| State Average | 77% | | State Average | 7% | | State Average | 10% | |
| Illinois | | | New Hampshire | | | Virginia | | |
| Duckworth | 7% | F | Hassan | 11% | F | Kaine | 6% | F |
| Durbin | 6% | F | Shaheen | 10% | F | Warner | 6% | F |
| State Average | 7% | | State Average | 11% | | State Average | 6% | |
| Indiana | | | New Jersey | | | Washington | | |
| Braun | 94% | A | Booker | 6% | F | Cantwell | 5% | F |
| Young | 71% | C+ | Menendez | 6% | F | Murray | 5% | F |
| State Average | 83% | | State Average | 6% | | State Average | 5% | |
| Iowa | | | New Mexico | | | West Virginia | | |
| Ernst | 86% | B+ | Heinrich | 5% | F | Capito | 64% | C |
| Grassley | 79% | B- | Lujan | 7% | F | Manchin | 14% | F |
| State Average | 83% | | State Average | 6% | | State Average | 39% | |
| Kansas | | | New York | | | Wisconsin | | |
| Marshall | 86% | B+ | Gillibrand | 9% | F | Baldwin | 7% | F |
| Moran | 85% | B+ | Schumer | N/A | N/A | Johnson | 90% | A |
| State Average | 86% | | State Average | 9% | | State Average | 49% | |
| | | | North Carolina | | | Wyoming | | |
| | | | Burr | 71% | C+ | Barrasso | 86% | B+ |
| | | | Tillis | 67% | C+ | Lummis | 91% | A |
| | | | State Average | 69% | | State Average | 89% | |
House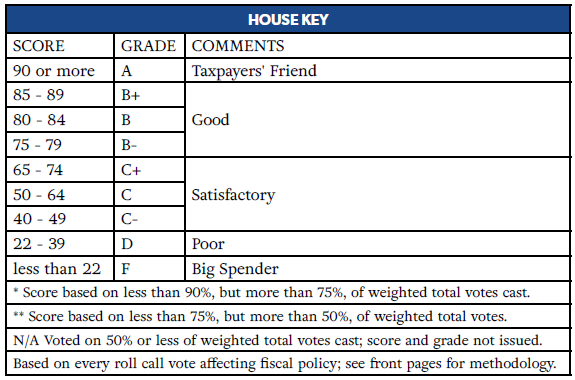 Alabama

Indiana

North Dakota

Aderholt

78%

B-

Baird

74%

C+

Armstrong

78%

B-

Brooks

84%

B

Banks

81%

B

State Average

78%

Carl

78%

B-

Bucshon

74%

C+

Ohio

Moore, B.

82%

B

Carson

8%

F

Balderson

75%

B-

Palmer

81%

B

Hollingsworth

74%

C+

Beatty

9%

F

Rogers, M.

75%

B-

Mrvan

8%

F

Brown, S.

N/A

N/A

Sewell

9%

F

Pence

78%

B-

Carey

N/A

N/A

State Average

70%

Spartz

76%

B-

Chabot

76%

B-

Alaska

Walorski

74%

C+

Davidson

82%

B

Young

63%

C

State Average

61%

Gibbs

77%

B-

State Average

63%

Iowa

Gonzalez, A.

64%

C

Arizona

Axne

6%

F

Johnson, B.

72%

C+

Biggs

87%

B+

Feenstra

74%

C+

Jordan

88%

B+

Gallego

8%

F

Hinson

74%

C+

Joyce, D.

68%

C+

Gosar

87%

B+

Miller-Meeks

71%

C+

Kaptur

6%

F

Grijalva

10%

F

State Average

56%

Latta

75%

B-

Kirkpatrick

6%

F

Kansas

Ryan

6%

F

Lesko *

86%

B+

Davids

6%

F

Turner

72%

C+

O'Halleran

5%

F

Estes

85%

B+

Wenstrup

75%

B-

Schweikert

83%

B

Laturner

76%

B-

State Average

60%

Stanton

5%

F

Mann

82%

B

Oklahoma

State Average

42%

State Average

62%

Bice

75%

B-

Arkansas

Kentucky

Cole

71%

C+

Crawford

77%

B-

Barr

75%

B-

Hern

85%

B+

Hill

74%

C+

Comer

79%

B-

Lucas

72%

C+

Westerman

76%

B-

Guthrie

74%

C+

Mullin

76%

B-

Womack

73%

C+

Massie

91%

A

State Average

76%

State Average

75%

Rogers, H.

70%

C+

Oregon

California

Yarmuth

9%

F

Bentz

72%

C+

Aguilar

8%

F

State Average

66%

Blumenauer

11%

F

Barragan

10%

F

Louisiana

Bonamici

12%

F

Bass

9%

F

Carter, T. **

7%

F

DeFazio

13%

F

Bera

8%

F

Graves, G.

73%

C+

Schrader

18%

F

Brownley

5%

F

Higgins, C. *

83%

B

State Average

25%

Calvert

73%

C+

Johnson, M.

79%

B-

Pennsylvania

Carbajal

8%

F

Letlow **

64%

C

Boyle

7%

F

Cardenas

9%

F

Scalise

75%

B-

Cartwright

7%

F

Chu

11%

F

State Average

64%

Dean

8%

F

Correa

8%

F

Maine

Doyle

13%

F

Costa

6%

F

Golden

33%

D

Evans

9%

F

DeSaulnier

10%

F

Pingree

8%

F

Fitzpatrick

49%

C-

Eshoo

10%

F

State Average

21%

Houlahan

7%

F

Garamendi

10%

F

Maryland

Joyce, J.

75%

B-

Garcia, M.

72%

C+

Brown, A.

7%

F

Keller

76%

B-

Gomez

12%

F

Harris

85%

B+

Kelly, M.

75%

B-

Harder

8%

F

Hoyer

8%

F

Lamb

6%

F

Huffman

11%

F

Mfume

10%

F

Meuser

75%

B-

Issa

74%

C+

Raskin

11%

F

Perry *

86%

B+

Jacobs, S.

11%

F

Ruppersberger

7%

F

Reschenthaler

71%

C+

Khanna

12%

F

Sarbanes

9%

F

Scanlon

7%

F

Kim, Y.

69%

C+

Trone

4%

F

Smucker

74%

C+

LaMalfa

75%

B-

State Average

18%

Thompson, G.

71%

C+

Lee, B.

13%

F

Massachusetts

Wild

6%

F

Levin, M.

6%

F

Auchincloss

12%

F

State Average

40%

Lieu

9%

F

Clark

11%

F

Rhode Island

Lofgren

10%

F

Keating

5%

F

Cicilline

9%

F

Lowenthal

11%

F

Lynch

6%

F

Langevin

5%

F

Matsui

10%

F

McGovern

12%

F

State Average

7%

McCarthy

74%

C+

Moulton

6%

F

South Carolina

McClintock

89%

B+

Neal

6%

F

Clyburn

8%

F

McNerney

10%

F

Pressley

17%

F

Duncan

84%

B

Napolitano

9%

F

Trahan

9%

F

Mace

77%

B-

Nunes

73%

C+

State Average

9%

Norman

90%

A

Obernolte

73%

C+

Michigan

Rice, T.

82%

B

Panetta

7%

F

Bergman

74%

C+

Timmons

79%

B-

Pelosi

N/A

N/A

Dingell

10%

F

Wilson, J.

75%

B-

Peters

6%

F

Huizenga

78%

B-

State Average

71%

Porter

11%

F

Kildee

11%

F

South Dakota

Roybal-Allard

8%

F

Lawrence

10%

F

Johnson, D.

75%

B-

Ruiz

7%

F

Levin, A.

12%

F

State Average

75%

Sanchez

10%

F

McClain

75%

B-

Tennessee

Schiff

10%

F

Meijer

69%

C+

Burchett

84%

B

Sherman

8%

F

Moolenaar

74%

C+

Cohen

12%

F

Speier

8%

F

Slotkin

6%

F

Cooper

8%

F

Steel

74%

C+

Stevens

7%

F

Desjarlais

79%

B-

Swalwell

7%

F

Tlaib

18%

F

Fleischmann

73%

C+

Takano

11%

F

Upton

61%

C

Green, M.

79%

B-

Thompson

9%