Looking for just the right words to say on Valentine's Day? Sadly, you won't receive any help from Sweethearts conversation hearts - those chalky, pastel confections with endearing messages. Sweethearts maker Necco filed for bankruptcy last year, leaving broken hearts and a bitter taste toward sugar policies that put U.S. romance at a disadvantage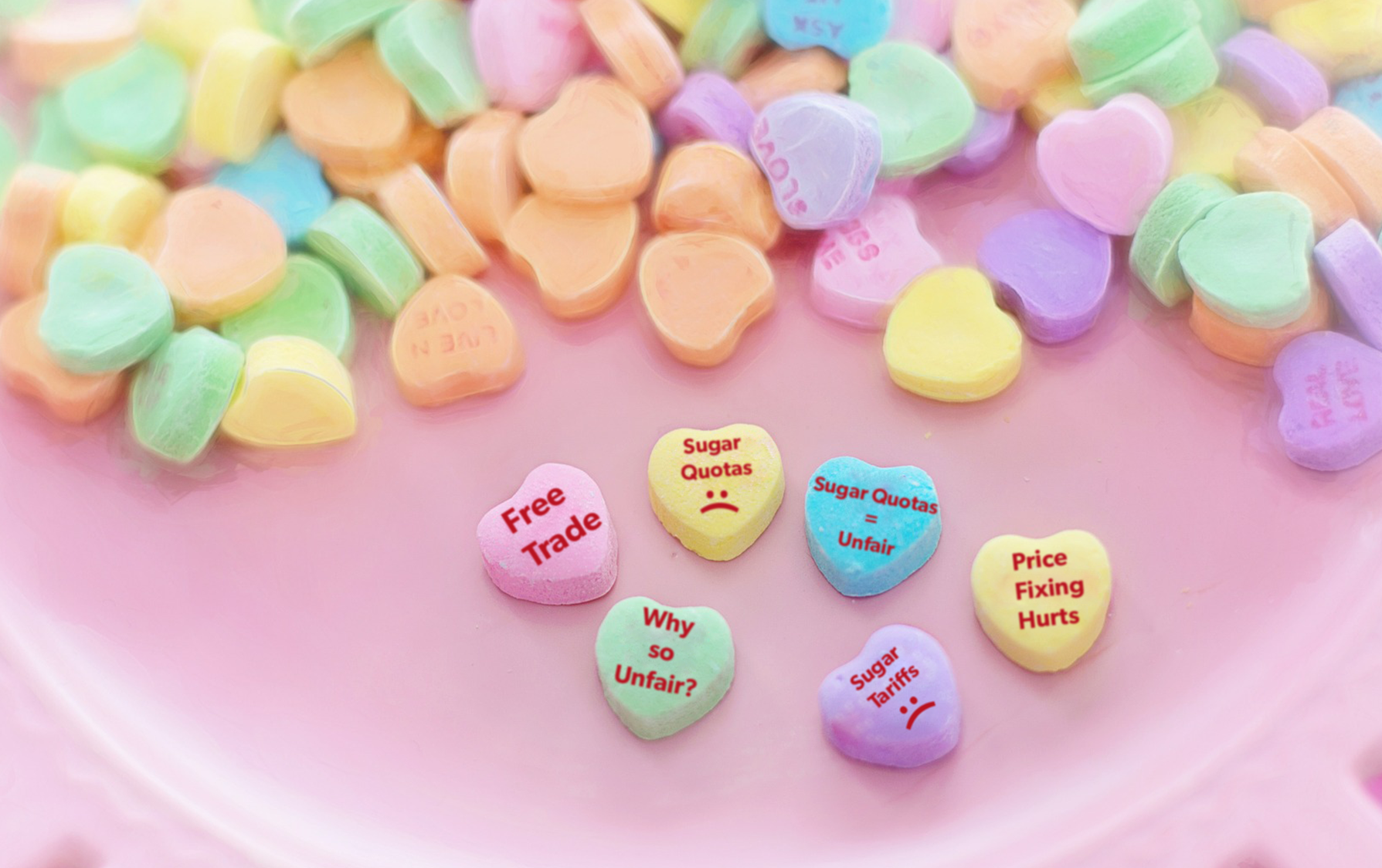 According to the United States Department of Agriculture, the average world price of raw sugar for fiscal year 2018 was 12.65 cents per pound, while the average U.S. price of raw sugar was 25.85 cents per pound. The world price of refined sugar for fiscal 2018 was 15.91 cents per pound, and the US wholesale refined beet sugar price was 35.53 cents per pound. Clearly, as Americans pay more than twice the average world price for sugar, a contributing factor in Necco's downfall could have been high costs of domestic sugar, the main ingredient in Sweethearts.
Sugar costs in the United States are higher than the world average because of the unfair U.S. sugar program, which distorts sugar prices by implementing price support loans, marketing allotments, sugar-to-ethanol backstops, and import quotas. These practices allow American sugar producers to sell their sugar in the United States at an inflated price.
This centralized planning and cronyism hurts more than just those of us who buy candy; it hurts candy producers and other food manufacturers. Many companies have been forced to move their candy production outside of the United States to access cheaper foreign sugar and remain competitive in global markets. Spangler Candy Co—the company that recently purchased bankrupt Necco—maintains some of its candy production in Mexico for these exact reasons. Spangler CEO Kirk Vashaw stated in 2017: "If we could just buy sugar at the price the rest of the world pays for sugar, we could move the 250 jobs we have in Mexico to Ohio."
By fixing sugar prices at artificially inflated levels, the federal government hurts consumers and drives jobs out of the United States. A 2013 study by Iowa State University found eliminating the sugar program, "...would increase U.S. consumers' welfare by $2.9 to $3.5 billion each year and generate...17,000 to 20,000 new jobs in food manufacturing and related industries."
This Valentine's Day, the federal government should show some love to both candy consumers and producers by reforming unfair sugar subsidy policies. If free market principles are applied to the U.S. sugar industry, we will all taste the sweet results. In the meantime, we'll just have to wait until next year for our Sweethearts fix.