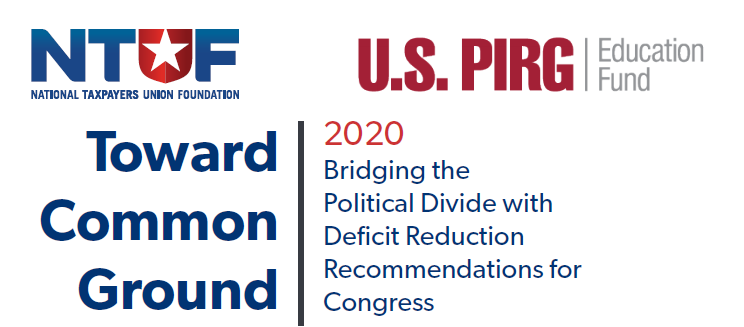 Authors
Demian Brady, National Taxpayers Union Foundation
R.J. Cross, U.S. Public Interest Research Group Education Fund
U.S. Public Interest Research Group (U.S. PIRG) Education Fund
With public debate around important issues often dominated by special interests pursuing their own narrow agendas, U.S. PIRG Education Fund offers an independent voice that works on behalf of the public interest. U.S. PIRG Education Fund, a 501(c)(3) organization, works to protect consumers and promote good government. We investigate problems, craft solutions, educate the public, and offer meaningful opportunities for civic participation. For more information about U.S. PIRG Education Fund or for additional copies of this report, please visit www.uspirgedfund.org.
National Taxpayers Union Foundation (NTUF)
NTUF is a nonpartisan research and educational organization, dedicated to showing Americans how taxes, government spending, and regulations affect them.Through difference-making data, analysis, and commentary, we empower citizens to engage in the critical policy debates of our time – and hold elected officials accountable.For more information about NTUF or for additional copies of this report, please visit ntu.org/foundation
Executive Summary
To break through the ideological divide that too often frames unproductive policy debates, and to offer a pathway that can address the nation's fiscal problems, NTUF and U.S. PIRG Education Fund joined together to identify mutually acceptable deficit reduction measures. This report documents our findings.
What follows is a general summary of recommendations that fall into four broad categories:
$62 billion in savings from ending wasteful subsidies,
$422 billion from addressing outdated or ineffective military programs,
$143 billion from improving program execution and government operations, and
$170 billion from reforming the operation of entitlement programs.
Each specific recommendation includes an estimate of its savings over the next ten years, and a reference to the source from which the estimate was drawn.
Introduction
Heading into 2020, the nation already faced serious fiscal challenges. In January, the Congressional Budget Office (CBO) forecast that this year's deficit would exceed $1 trillion, increasing the publicly-held federal debt load to nearly $18 trillion. Over the next ten years, CBO's baseline projection saw the debt rising to $31 trillion.
The impact of the COVID-19 pandemic has upended the forecasts. Congress came together quickly to enact a series of bipartisan legislative packages to address the health care emergency and the economic fallout. As these immediate challenges are subdued, Congress will again need to set aside political differences and work together to restore the budget to a sustainable path.
It is in this spirit that National Taxpayers Union Foundation (NTUF) and U.S. Public Interest Research Group (U.S. PIRG) Education Fund have joined together to propose a list to Congress of more than 50 recommendations to reform the future spending commitments of our nation. If enacted in their entirety, these changes would save taxpayers more than $790 billion over the next decade.
Our organizations may differ about what constitutes a proper regulatory and tax system, but we are united in the belief that the federal government spends in ways that are not fiscally sustainable, and are often detrimental to the interests of the American people. For NTUF, out-of-control entitlement spending, fueled by demographic changes, is a particular concern. For U.S. PIRG, of particular concern is spending that threatens public health, causes environmental damage or wastes taxpayer dollars through corruption or inefficiency.
Within this project, we mutually identify areas of wasteful, cronyistic, and excessive spending that plague our federal budget. We hope that these bipartisan spending cuts and reforms will (1) provide Congress with a number of examples of spending reductions that can at least marginally help rein in federal spending, and (2) show that there are areas of agreement that bridge ideological divides if only we seek them out.
The recommendations in "Toward Common Ground 2020" touch nearly every portion of federal expenditures, including entitlements, defense spending, wasteful subsidies, and a broad range of improvements to the efficiency and effectiveness of discretionary programs. They include large items, such as a $195 billion reform of the Department of Defense's operations and maintenance budget, and relatively small ones, like $4 million in savings from limiting the pensions and perks provided to former presidents. The proposals are specific, detailed, and actionable items that Congress and the administration could pursue right now to reduce spending and ensure stability for America's long-term budget.
Methodology
Every recommendation, unless otherwise noted, includes a 10-year savings estimate backed by sources such as the Congressional Budget Office (CBO), Government Accountability Office (GAO), Office of Management and Budget (OMB), government agencies such as the Department of Defense, or nonpartisan working groups. All cost savings cite the most recent updated sources. All other major calculations are included in the footnotes.
Improving Program Execution and Government Operations – Total Savings of up to $143 billion
Payment errors, duplicative programs, and inefficient processes combine to squander tens of billions of taxpayer dollars every year. Taking a comprehensive approach to streamlining the operation of these myriad functions could not only spare taxpayers additional expense, but also improve the quality of services they receive. If enacted in their entirety, these 17 recommendations could save as much as $143 billion over the next decade.
Addressing Outdated or Ineffective Military Programs – Total Savings of up to $422 billion
While a strong national defense is necessary, it is equally clear that the Department of Defense (DoD) has a number of programs that do not advance this goal, and instead waste vital resources. As the largest portion of the "discretionary" budget, and about 18 percent of the total federal budget, it stands to reason that prudently examining DoD's funding and priorities could generate significant savings for taxpayers. Due to the delicate nature of decisions relating to national security, we have relied on authoritative recommendations from officials and independent experts from across the political spectrum to guide this part of our report. Following these 14 recommendations to carefully reform or eliminate certain weapons programs and make other procedural improvements could save taxpayers as much as $422 billion over the next decade.
Reform of Federal Subsidy Programs – Total Savings of up to $62 billion
Every year, the federal government hands out billions of dollars in subsidies for a wide variety of activities, often best described as commercial in nature. Though some of these programs may be well-intentioned efforts to provide targeted support to businesses or individuals, in practice they are a poor use of taxpayer dollars, and often fail to achieve their stated objectives. This section recommends spending reductions that focus primarily on "corporate welfare" programs, inefficient agricultural supports, and spending on energy development. If Congress were to enact all 16 recommendations, it would save taxpayers $62 billion over the next decade.
Reforming the Operation of Entitlement Programs – Total Savings of up to $170 billion
Medicare, Medicaid, and Social Security combined comprise over 50% of the federal budget. As a result, their expenditures deserve close scrutiny. Giving program administrators greater access to technology and other tools to root out fraud and improper payments could yield tremendous savings, and lead to more efficient programs for patients and beneficiaries. The four recommendations in the section, if taken together, could save taxpayers as much as $170 billion over the next decade.
Acknowledgements
The authors bear responsibility for any factual errors. The recommendations are those of U.S. Public Interest Research Group Education Fund and National Taxpayers Union Foundation. The views expressed in this report are those of the authors and do not necessarily reflect the views of funders or those who provided review.
Research assistance provided by NTUF Associate Policy Analyst Jacob Plott and intern Parker Gardner. Thanks to Tony Dutzik, Linus Lu, James Horrox and Adrian Pforzheimer of Frontier Group for their editorial support.