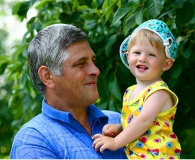 Did you know that there is a way for you to preserve your legacy – and the legacy of freedom – for your children and grandchildren?
Making a charitable bequest to National Taxpayers Union (NTU) or National Taxpayers Union Foundation (NTUF) is more than just a gesture. It's a loud and clear declaration of your commitment to lower taxes, limited government, and individual freedom. It's a way to strengthen our cause for many years to come.
Every gift, no matter how great or small, will make you a part of our Legacy Society.
Planned Giving
Planned giving, also sometimes called "deferred giving", has several advantages.
It allows you to create a comprehensive, long-term plan for your estate: a plan that can cover your family, your friends, and your favorite causes and charities. It is also flexible. There are many ways to make a planned gift, and almost all of them are revocable – meaning they can be altered at any time.
Additionally, it enables you to make a lasting contribution to the causes you are most passionate about. It is a way to give without compromising your source of income, or the integrity of your assets.