A single picture from President Trump's recent visit to a Whirlpool factory in Ohio captures his administration's trade policy.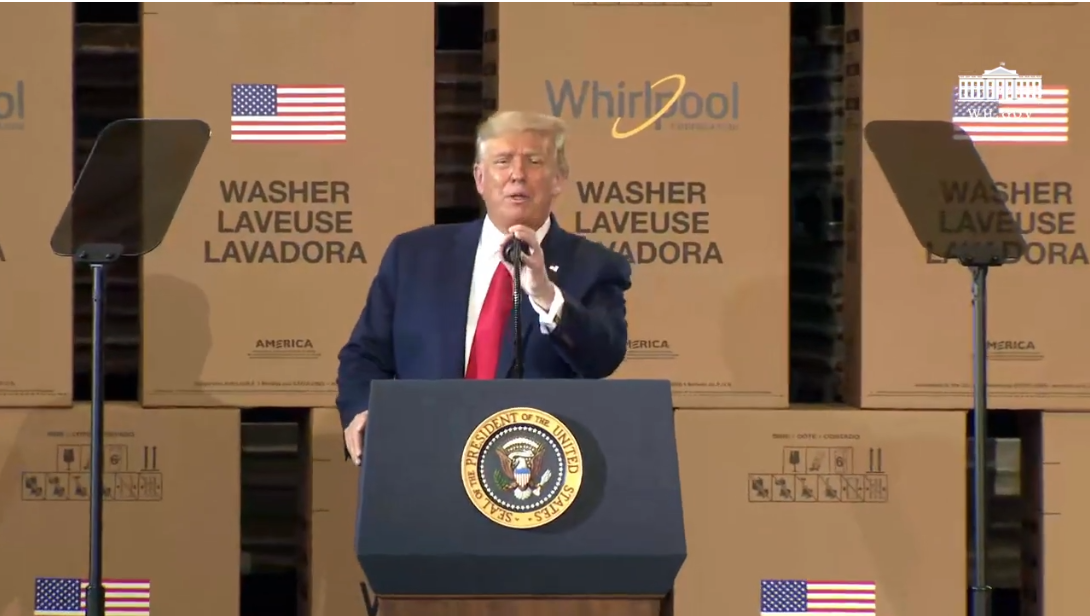 President Trump at the Whirlpool factory. Source: White House video.
As President Trump lectured Whirlpool workers about the evils of globalization and pledged to reimpose tariffs on aluminum from Canada, he was surrounded by shipping crates labeled:
WASHER
LAVEUSE
LAVADORA
The French and Spanish words for "washer" are printed on the boxes because 12 percent of U.S.-made Whirlpool products are exported to other countries. According to Whirlpool, "7,500 jobs that support our global operations are located in the U.S."
Maybe "global" isn't such a bad word for American workers, after all.
Whirlpool workers depend on affordable aluminum to make appliances. For some bizarre reason, President Trump thought it would be a good idea to announce to them his plan to impose new tariffs on aluminum.
According to The Aluminum Association, "Home appliances—the washing machine, dryer, refrigerator and laptop—exist as they are today because of aluminum's light weight, structural strength and thermal characteristics." Aluminum reportedly accounts for 9 percent of the composition of washing machines. Whirlpool's CEO has said "the net impact of all [trade] remedies and tariffs has turned into a headwind for us."
In one fell swoop, Trump attacked the livelihoods of Whirlpool workers who depend on globalization for 12 percent of their company's sales, and imposed new tariffs that will make appliances produced in Ohio more expensive and less globally competitive.
This is in addition to the costly impact of tariffs on American appliance buyers, as recently documented by the Cato Institute's Scott Lincicome.
America's farmers and manufacturers don't need more tariffs. They deserve a trade policy that allows them to freely import the fertilizer and aluminum they need to produce soybeans and "lavadoras," and the opportunity to export those U.S.-made products to customers around the globe.