(pdf)
Introduction
This week, the Trump Administration completed the rollout of its full budget proposal for FY 2020 through 2029. On paper the President's budget would shrink deficits to less than one percent of GDP in 10 years and would be balanced in 15 years. While it is laudable that the Administration has set forth a blueprint with achievable spending reductions – while also locking in the individual income and estate tax reforms and reductions enacted in the 2017 Tax Cuts and Jobs Act – there are potential pitfalls along the path to balance.
The budget blueprint relies on very optimistic economic assumptions of annual growth. A dip in performance could reduce tax receipts which would widen the deficit without further spending reforms. While there are noteworthy reforms to discretionary and mandatory spending programs included in the budget, there are also some gimmicks, such as bulking up the defense budget outside of statutory spending caps.
Another challenge to getting to a balanced budget is that spending is set to grow over the short-term with reforms kicking in later in the budget windows. Recent history shows that the will to adhere to spending restraints weakens over time, so it is better to lock in budgetary savings sooner rather than later. Moreover, additional reforms are needed in advance of Social Security's looming insolvency in 2034.
Deficit Reduction and Spending Reforms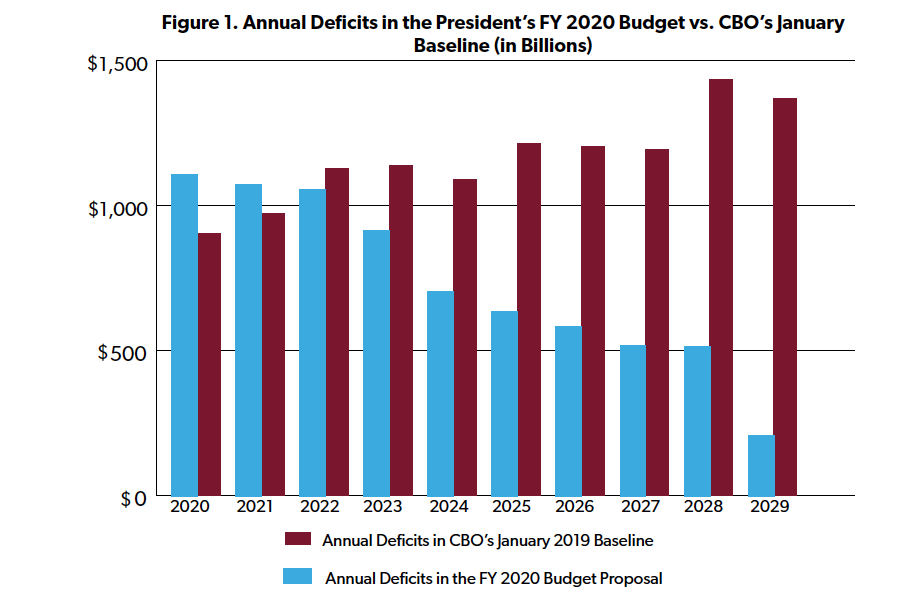 In January the Congressional Budget Office (CBO) released its ten-year budget baseline that projected that annual deficits would top $1 trillion starting in FY 2022 and adding a total of $11.6 trillion to the national debt over the decade. CBO is required to make these projections using current law which gives the appearance of producing less red ink than is likely. Under the President's budget, annual deficits would exceed CBO's baseline over the first two years, from a net of $5 billion lower projected tax receipts and $288 billion in higher spending. Over the rest of the budget window, the budget projects receipts growing faster and spending growing slower, adding $7.3 trillion to the debt, $4.4 trillion less than CBO's baseline.
The centerpiece of the budget's spending reform is a "two-penny plan" of annual two percent cuts to non-defense discretionary spending, saving $1.1 trillion over ten years. This would keep these outlays below the Budget Control Act's (BCA) spending caps. This would also further facilitate the elimination of wasteful and duplicative programs. As the Government Accountability Office's (GAO) latest annual report on waste shows, this remains a problem. More specifically, the budget's Major Savings and Reforms document lays out a list of reforms with detailed justifications including 67 discretionary programs whose elimination would save $28 billion, plus $20.8 billion in reductions and reforms to another 34 programs.
The budget includes additional reforms that merit bipartisan consideration to help rein in spending and protect taxpayers:
With these reforms, non-defense discretionary spending would grow to $700 billion in FY 2020, up $15 billion over this year's projected level, and then shrink to $511 billion in 2029. Medicaid spending would dip from $419 billion to $418 billion from 2019 to 2020 but would grow to $602 billion in 2029. Otherwise, net spending would increase from year to year, but at a slower rate relative to the baseline.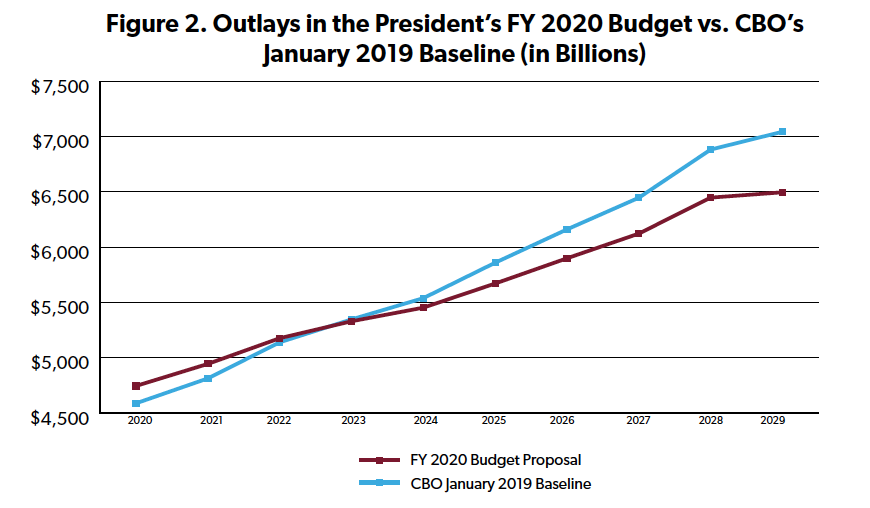 Potential Pitfalls in the Budget
At $726 billion in FY 2020, defense would see a nearly 8 percent boost over 2019. This includes $306 million in startup funds for three new military programs: a U.S. Space Force, a Space Development Agency, and U.S. Space Command. The idea is to consolidate overlapping projects taking place across Defense Department but runs the risk of growing into another unwieldy military bureaucracy. A long-term budget outlook for the new programs is not yet available, but initial reports after the President first announced the Space Force last summer pegged the five-year cost at $2 billion, including 15,000 personnel.
However, the budget also includes the revenues from several Affordable Care Act taxes that the Administration has supported repealing. The Administration's tax projections, which only show data over the next five years, include receipts form the Medical Device Tax ($13.3 billion), the Excise Tax on High Cost Employer-Sponsored Plans ($13.6 billion), and the Fee on Health Insurance Providers ($84.4 billion). The budget also includes a legislative proposal "Empowering States and Consumers to Reform Healthcare" which reduces revenues by $12.8 billion, but it is unclear what exactly this does.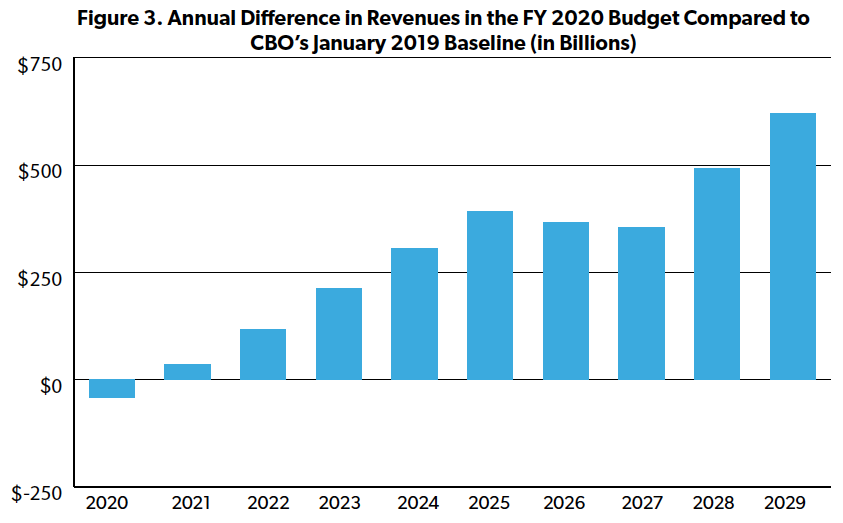 The budget also pumps up the Internal Revenue Service's enforcement budget and imposes additional fees and oversight on tax preparers. Taxpayers already face an uphill battle in challenging the IRS's determinations in tax disputes. There are too many previous examples of the IRS's abuse of power. As NTU President Pete Sepp has stated, "the threat to taxpayers doesn't rise and fall in a linear fashion with IRS's enforcement budget. There is plenty to be worried about, but it's more about poor procedures and lack of protections for taxpayers than raw enforcement dollars." Taxpayer rights should be commensurately bolstered, and the IRS's appeal processes should be improved to strengthen protections.
Conclusion
President Trump's blueprint includes many reform proposals that lawmakers ought to consider to check the growth in spending and set a path towards balance. However, they should also be mindful of pitfalls along the way and avoid gimmicks such as the OCO slush fund for defense spending. Drafting budget proposals and defining priorities is an important part of the policy process, but the tricky part is getting reforms enacted. Finding common ground on budget reforms, and the will to adhere to limits over the long-term, remains a top challenge in the Capitol.