With just a week or two to spare before Treasury hits the debt ceiling "x date" when it will no longer be able to finance all federal obligations, President Biden and House Speaker Kevin McCarthy (R-CA) reached a deal, introduced as the Fiscal Responsibility Act (FRA).
Among its provisions, the FRA would suspend the debt ceiling through January 1, 2025, implement restraints on certain discretionary spending, rescind unspent funds enacted during the pandemic, and claw back some of the Inflation Reduction Act's boost to the Internal Revenue Service.
The bill would also help spur lawmakers to pass the annual appropriations bills on time. For 2024 and 2025, discretionary spending would be limited to one percent below FY 2023 levels in the event that all twelve regular appropriations bills are not enacted before the start of the calendar year.
The Congressional Budget Office's (CBO) cost estimate finds that the FRA would save $1.528 trillion over the next ten years, including $1.332 trillion from the FY 2024 and 2025 statutory caps and their impact on future discretionary spending. CBO also notes:
If future appropriations were provided at the amounts of the caps as specified, budget … outlays would be $553 billion lower over the 2026–2033 period than the amounts CBO would project based on the caps specified in section 101(a) for 2024 and 2025.
In the time since the BCA was enacted, the debt ceiling was increased or suspended nine times. Of those debt ceiling increase bills, four included no reforms, three actually increased spending, and just two were scored as savings upon passage.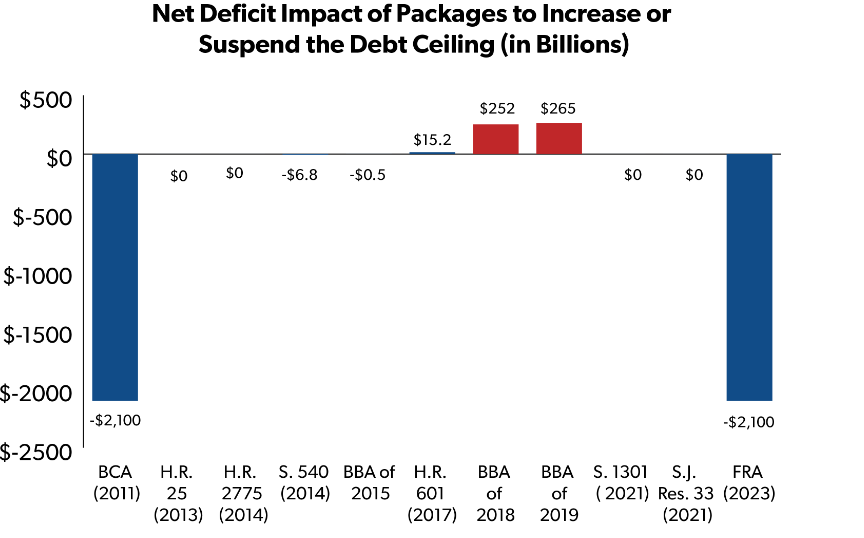 Note: Based on CBO scores and the time of passage, and the new CBO score for the FRA including additional savings If future appropriations were provided at the amounts of the caps as specified.
Recent Debt Ceiling Increases
Below is an overview of the BCA and nine debt ceiling increases or suspensions since then. The CBO scores are those available at the time of passage. Some scores may have been revised by CBO in budget outlook updates following passage of each of these laws. For example, shortly after the passage of the Bipartisan Budget Act of 2019, discussed below, CBO's budget update incorporated the law's discretionary spending levels into the ten-year baseline and found that it would increase deficits by $1.5 trillion.
The Fiscal Responsibility Act of 2023 Compared to Laws to Increase or Suspend the Debt Ceiling since 2011

Debt Ceiling Provision

Net Deficit Impact of Packages to Increase or Suspend the Debt Ceiling (in Billions)

BCA (2011)

$2.4 trillion increase

-$2,100

H.R. 325 (2013)

Suspended through May 18, 2013

(none included)

H.R. 2775 (2014)

Suspended through February 7, 2014

(none included)

S. 540 (2014)

Suspended through March 15, 2015

-$6.8

BBA of 2015

Suspended through March 15, 2017

-$0.5

H.R. 601 (2017)

Suspended through December 8, 2017

+$15.2

BBA of 2018

Suspended through March 1, 2019

+$252.1

BBA of 2019

Suspended through July 31, 2021

+$264.9

S. 1301 ( 2021)

$480 billion increase

(none included)

S.J. Res. 33 (2021)

$2.5 trillion increase

(none included)

FRA (2023)

Suspended until January 1, 2025

-$2,100
Conclusion
Earlier in May, House Republicans enacted the Limit, Save, Grow Act which included over $4.1 trillion in deficit reduction reforms and a $1.5 trillion hike in the debt ceiling. President Biden and many congressional Democrats had wanted a "clean" debt ceiling increase, with no strings attached.

While not perfect, the FRA moves in the direction of resetting discretionary spending on a lower trajectory. Lawmakers should build on the bipartisan spirit of this proposal and continue to implement additional pro-growth economic policies and mandatory spending reforms so that the debt ceiling is no longer an issue.