A new report calculates the damage being inflicted on Americans by the Trump Administration's trade policies. The costs of Trump's existing and proposed tariffs and subsequent retaliation include:
$365.1 billion reduction in U.S. gross domestic product (GDP) in 2019.

Average U.S. household loss of $2,357 in 2019.

Cumulative GDP losses of $2.8 trillion between 2018 and 2030.

Significant job losses for manufacturing and agriculture workers.
The study, "Estimated Impacts of US Sections 232 and 301 Trade Actions on the US and Global Economies" was prepared by ImpactECON, LLC for Koch Companies Public Sector, LLC. The report uses the Global Trade Analysis Project (GTAP) database and model to calculate the impact of U.S. tariffs under Section 232 of the Trade Expansion Act of 1962 and tariffs on China based on Section 301 of the Trade Act of 1974, in addition to retaliatory tariffs imposed by foreign governments on U.S. exports. It finds the tariffs inflict substantial losses on U.S. GDP, household income, and employment.
Change in production by broad economic sectors, 2019-2030, all actions [percent change]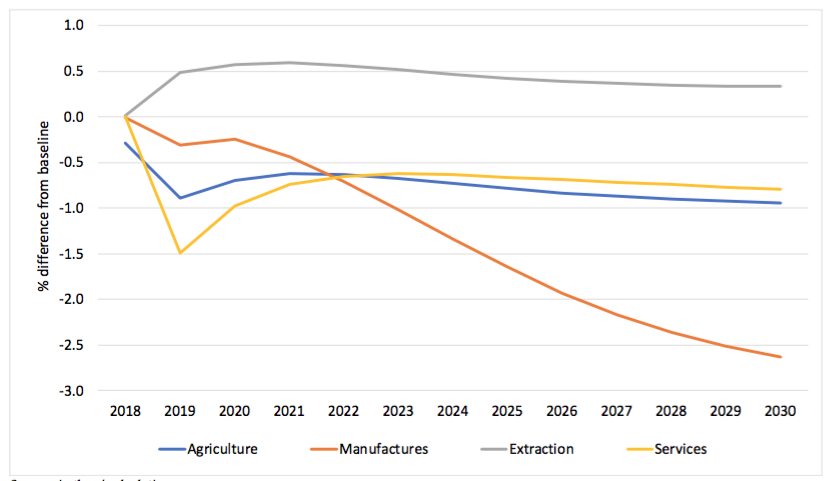 Source: ImpactECON
While this is the newest and most comprehensive analysis of the Trump administration's tariffs, other studies have repeatedly found that the economic costs of tariffs outweigh any benefits. For example, The Trade Partnership calculated that Section 232 steel and aluminum tariffs and retaliatory tariffs cost 16 U.S. jobs for every steel and aluminum job gained. A comprehensive analysis of U.S. trade restrictions since 1947 by Cato Institute adjunct scholar Scott Lincicome found that "American protectionism has repeatedly failed as an economic strategy."
Economists have long understood that protectionism makes Americans poorer and less secure. Earlier this year, more than 1,100 U.S. economists, including 15 Nobel Laureates, wrote: "We are convinced that increased protective duties would be a mistake. They would operate, in general, to increase the prices which domestic consumers would have to pay. A higher level of protection would raise the cost of living and injure the great majority of our citizens."
The Trump administration has largely dismissed these costs as insignificant. According to White House press secretary Sarah Huckabee Sanders, "We may have a little bit of short-term pain, but we're certainly going to have long-term success."
The new report shows that Americans will suffer significant short-term pain, not just "a little bit." Moreover, there is no reason to expect this self-inflicted suffering will lead to any long-term success. For example, the Office of the U.S. Trade Representative recently admitted that U.S. tariffs targeting China under Section 301 have had no favorable impact: "China has not fundamentally altered its unfair, unreasonable, and market-distorting practices that were the subject of the March 2018 report on our Section 301 investigation."
The Trump administration reportedly plans to go ahead with the imposition of new taxes on imports from China beginning January 1 on top of new taxes of up to 25 percent on car imports. The new ImpactECON report shows these tariffs would be a costly mistake. In The Art of the Deal, President Trump wrote: "I never get too attached to one deal or one approach." It's time for him to take a new approach to trade.